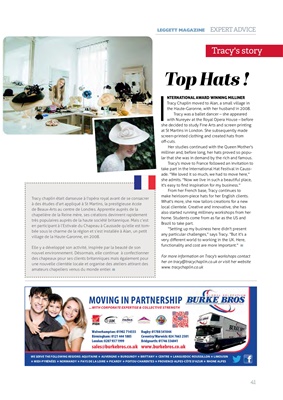 WE SERVE THE FOLLOWING REGIONS: AQUITAINE � AUVERGNE � BURGUNDY � BRITTANY � CENTRE � LANGUEDOC-ROUSSILLON � LIMOUSIN
� MIDI-PYRÉNÉES � NORMANDY � PAYS DE LA LOIRE � PICARDY � POITOU-CHARENTES � PROVENCE-ALPES-CÔTE D'AZUR � RHONE ALPES
MOVING IN PARTNERSHIP
...WITH CORPORATE EXPERTISE & COLLECTIVE STRENGTH
sales@burkebros.co.uk/burkebros.co.uk" target="_blank" title="Visit burkebros.co.uk">burkebros.co.uk www.burkebros.co.uk
Wolverhampton: 01902 714555
Birmingham: 0121 444 1885
London: 0207 937 1999
Rugby: 01788 541044
Coventry/Warwick: 024 7663 2501
Bridgnorth: 01746 336041
41
I
NTERNATIONAL AWARD WINNING MILLINER
Tracy Chaplin moved to Alan, a small village in
the Haute-Garonne, with her husband in 2008.
Tracy was a ballet dancer - she appeared
with Nureyev at the Royal Opera House - before
she decided to study Fine Arts and screen printing
at St Martins in London. She subsequently made
screen-printed clothing and created hats from
off-cuts.
Her studies continued with the Queen Mother's
milliner and, before long, her hats proved so popular that she was in demand by
the rich and famous.
Tracy's move to France followed an invitation to
take part in the International Hat Festival in Caussade.
"We loved it so much, we had to move here,"
she admits. "Now we live in such a beautiful place,
it's easy to find inspiration for my business."
From her French base, Tracy continues to
make heirloom-piece hats for her English clients.
What's more, she now tailors creations for a new
local clientele. Creative and innovative, she has
also started running millinery workshops from her
home. Students come from as far as the US and
Brazil to take part.
"Setting up my business here didn't present
any particular challenges," says Tracy. "But it's a
vertracy@tracychaplin.co.ukking in the UK. Here,
functionality and cost are more important."
For more information on Tracy's workshops contact
her on tracy@tracychaplin.co.uk or visit her website
www. tracychaplin.co.uk Tracy's story
Top Hats !
Tracy chaplin était danseuse à l'opéra royal avant de se consacrer
à des études d'art appliqué à St Martins, la prestigieuse école
de Beaux-Arts au centre de Londres. Apprentie auprès de la
chapelière de la Reine mère, ses créations devinrent rapidement
très populaires auprès de la haute société britannique. Mais c'est
en participant à l'Estivale du Chapeau à Caussade qu'elle est tombée sous le charme de la région
et s'est installée à Alan, un petit
village de la Haute-Garonne, en 2008.
Elle y a développé son activité, inspirée par la beauté de son
nouvel environnement. Désormais, elle continue à confectionner
des chapeaux pour ses clients britanniques mais également pour
une nouvelle clientèle locale et organise des ateliers attirant des
amateurs chapeliers venus du monde entier.
LEGGETT MAGAZINE EXPERT ADVICE