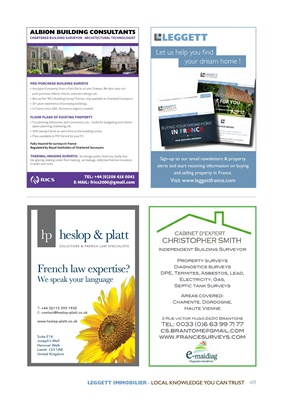 YOUR FIRST CHOICE IN FRANCE
Sign-up to our email newsletters & property
alerts and start receiving information on buying
and selling property in France.
Visit www.leggettfrance.com
Let us help you find
your dream home !
LEGGETT
LEGGETT IMMOBILIER - LOCAL KNOWLEDGE YOU CAN TRUST 49
Independent Building Surveyor
Property surveys
Diagnostics surveys
DPE, Termites, Asbestos, Lead,
Electricity, Gas,
Septic tank Surveys
Areas covered:
Charente, Dordogne,
cs.brantome@gmail.comp>3 Rue victor Hugo 24310 Brantome
Tel: 0033 (0)6 63 99 71 77
Suite E14
Joseph's Well
Hanover Walk
Leeds LS3 1AB
United Kingdom
ALBION BUILDING CONSULTANTS
CHARTERED BUILDING SURVEYOR ARCHITECTURAL TECHNOLOGIST
PRE-PURCHASE BUILDING SURVEYS
• Any type of property, from a Paris flat to a Loire Chateau. We also carry out
post-purchase defects checks, extension design, etc.
• We use the "RICS Building Survey" format, only available to Chartered Surveyors.
• 35+ years experience of surveying buildings.
• In France since 2001. Numerous regions covered.
FLOOR PLANS OF EXISTING PROPERTY
• For planning Extensions and Conversions, etc. Useful for budgeting and interior
space-planning, marketing, etc.
• 30% saving if done as same time as the building survey
• Plans available in PDF format for your Pfrics2000@gmail.comed for surveys in France
Regulated by Royal Institution of Chartered Surveyors
THERMAL-IMAGING SURVEYS: for energy audits, heat-loss, faulty double-glazing,
leaking under-floor heating, air-leakage, defective thermal insulation
to walls and roofs.
TEL: +44 (0)208 416 0041
E-MAIL: frics2000@gmail.com