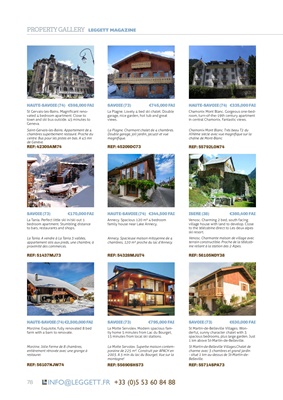 78
HAUTE-SAVOIE (74) €598,000 FAI
St Gervais-les-Bains. Magnificant renovated 4 bedroom
apartment. Close to
town and ski bus outside. 45 minutes to
Geneva.
Saint-Gervais-les-Bains. Appartement de 4
chambres superbement restauré. Proche du
centre. Bus pour les pistes en bas. A 45 mn
de Genève.
REF: 42309AM74
SAVOIE (73) €745,000 FAI
La Plagne. Lovely 4 bed ski chalet. Double
garage, nice garden, hot tub and great
views.
La Plagne. Charmant chalet de 4 chambres.
Double garage, joli jardin, jacuzzi et vue
magnifique.
REF: 45209DC73
HAUTE-SAVOIE (74) €335,000 FAI
Chamonix Mont Blanc. Gorgeous one-bedroom,
turn-of-the-19th century apartment
in central Chamonix. Fantastic views.
Chamonix Mont Blanc. Très beau T2 du
XIXème siècle avec vue magnifique sur la
chaîne de Mont-Blanc
REF: 55792LON74
SAVOIE (73) €170,000 FAI
La Tania. Perfect little ski in/ski out 1
bedroom apartment. Stumbling distance
to bars, restaurants and shops.
La Tania. A vendre à La Tania 3 vallées,
appartement skis aux pieds, une chambre, à
proximité des commerces.
REF: 51437MJ73
HAUTE-SAVOIE (74) €344,500 FAI
Annecy. Spacious 120 m² 4 bedroom
family house near Lake Annecy.
Annecy. Spacieuse maison mitoyenne de 4
chambres, 120 m² proche du lac d'Annecy.
REF: 54328MJU74
ISERE (38) €360,400 FAI
Venosc. Charming 2 bed, south facing
village house with land to develop. Close
to the télécabine direct to Les deux alpes
ski resort.
Venosc. Charmante maison de village avec
terrain constructible. Proche de la télécabine reliant à la station
des 2 Alpes.
REF: 56105NDY38
HAUTE-SAVOIE (74) €2,500,000 FAI
Morzine. Exquisite, fully renovated 8 bed
farm with a barn to renovate.
Morzine. Jolie Ferme de 8 chambres,
entièrement rénovée avec une grange à
restaurer.
REF: 56107NJW74
SAVOIE (73) €795,000 FAI
La Motte Servolex. Modern spacious family home 5 minutes from
Lac du Bourget,
15 minutes from local ski stations.
La Motte Servolex. Superbe maison contemporaine
de 225 m². Construit par APACH en
2003. A 5 min du lac du Bourget. Vue sur la
montagne!
REF: 55690SHS73
SAVOIE (73) €630,000 FAI
St Martin-de-Belleville Villages. Wonderful, sunny character
chalet with 3
spacious bedrooms, plus large garden. Just
1 km above St-Martin-de-Belleville.
St Martin-de-Belleville villages.chalet de
charme avec 3 chambres et grand jardin
- situé 1 km au-dessus de St-Martininfo@leggett.fr/p>
REF: 55714SPA73
PROPERTY GALLERY LEGGETT MAGAZINE
INFO@leggett.fr +33 (0)5 53 60 84 88