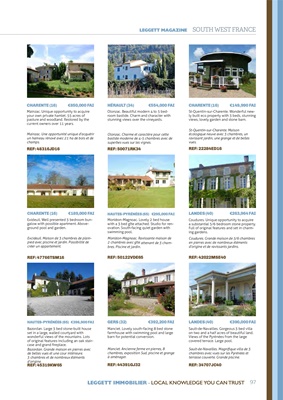 LEGGETT IMMOBILIER - LOCAL KNOWLEDGE YOU CAN TRUST 97
CHARENTE (16) €850,000 FAI
Mainzac. Unique opportunity to acquire
your own private hamlet. 55 acres of
pasture and woodland. Restored by the
current owners over 11 years.
Mainzac. Une opportunité unique d'acquérir
un hameau rénové avec 21 ha de bois et de
champs.
REF: 48316JD16
HÉRAULT (34) €554,000 FAI
Olonzac. Beautiful modern 4 to 5 bedroom
bastide. Charm and character with
stunning views over the vineyards.
Olonzac. Charme et caractère pour cette
bastide moderne de 4-5 chambres avec de
superbes vues sur les vignes.
REF: 50071RK34
CHARENTE (16) €149,990 FAI
St-Quentin-sur-Charente. Wonderful newly built eco
property with 3 beds, stunning
views, lovely garden and stone barn.
St-Quentin-sur-Charente. Maison
écologique neuve avec 3 chambres, un
ravissant jardin, une grange et de belles
vues.
REF: 22284ED16
CHARENTE (16) €189,000 FAI
Exideuil. Well presented 3 bedroom bungalow
with possible apartment. Above-
ground pool and garden.
Excideuil. Maison de 3 chambres de plainpied avec piscine et jardin. Possibilité de
créer un appartement.
REF: 47766TSM16
HAUTES-PYRÉNÉES (65) €295,000 FAI
Monléon-Magnoac. Lovely 2 bed house
with a 3 bed gîte attached. Studio for renovation.
South-facing quiet garden with
swimming pool.
Monléon-Magnoac. Ravissante maison de
2 chambres avec gîte attenant de 3 chambres. Piscine et jardin.
REF: 50122VDE65
LANDES (40) €263,964 FAI
Coudures. Unique opportunity to acquire
a substantial 5/6 bedroom stone property.
Full of original features and set in charming gardens.
Coudures. Grande maison de 5/6 chambres
en pierres avec de nombreux éléments
d'origine et de ravissants jardins.
REF: 42022MSE40
HAUTES-PYRÉNÉES (65) €398,900 FAI
Bazordan. Large 3 bed stone-built house
set in a large, walled courtyard with
wonderful views of the mountains. Lots
of original features including an oak staircase and grand
fireplace.
Bazordan. Grande maison en pierres avec
de belles vues et une cour intérieure.
3 chambres et de nombreux éléments
d'origine.
REF: 45319KW65
GERS (32) €392,200 FAI
Manciet. Lovely south-facing 8 bed stone
farmhouse with swimming pool and large
barn for potential conversion.
Manciet. Ancienne ferme en pierres, 8
chambres, exposition Sud, piscine et grange
à aménager.
REF: 44391GJ32
LANDES (40) €390,000 FAI
Sault-de-Navailles. Gorgeous 3 bed villa
on two and a half acres of beautiful land.
Views of the Pyrénées from the large
covered terrace. Large pool.
Sault-de-Navailles. Magnifique villa de 3
chambres avec vues sur les Pyrénées et
terrasse couverte. Grande piscine.
REF: 34707JC40
LEGGETT MAGAZINE SOUTH WEST FRANCE