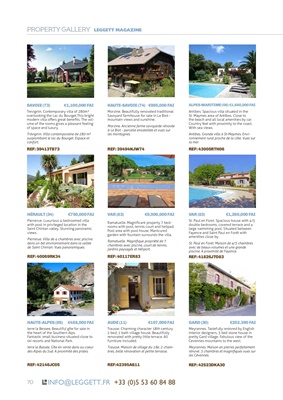 70
SAVOIE (73) €1,100,000 FAI
Trevignin. Contemporary villa of 280m²
overlooking the Lac du bourget.this bright
modern villa offers great benefits. The volume of
the rooms gives a pleasant feeling
of space and luxury.
Trévignin. Villa contemporaine de 280 m²
surplombant le lac du Bourget. Espace et
confort.
REF: 39413TB73
HAUTE-SAVOIE (74) €995,000 FAI
Morzine. Beautifully renovated traditional
Savoyard farmhouse for sale in Le Biot -
mountain views and sunshine.
Morzine. Ancienne ferme savoyarde rénovée
à Le Biot - parcelle ensoleillée et vues sur
les montagnes.
REF: 39494NJW74
ALPES-MARITIME (06) €1.680,000 FAI
Antibes. Spacious villa situated in the
St. Maymes area of Antibes. Close to
the beach and all local amenities by car.
Country feel with proximity to the coast.
With sea views.
Antibes. Grande villa à St-Maymes. Environnement rural
proche de la côte. Vues sur
la mer.
REF: 43005RTH06
HÉRAULT (34) €750,000 FAI
Pierrerue. Luxurious 4 bedroomed villa
with pool in privileged location in the
Saint Chinian valley. Stunning panoramic
views.
Pierrerue. Villa de 4 chambres avec piscine
dans un bel environnement dans la vallée
de Saint Chinian. Vues panoramiques.
REF: 40069RK34
VAR (83) €9,900,000 FAI
Ramatuelle. Magnificant property 7 bedrooms
with pool, tennis court and helipad.
Pool area with pool house. Manicured
garden with fountain surrounds the villa.
Ramatuelle. Magnifique propriété de 7
chambres avec piscine, court de tennis,
jardins paysagés et héliport.
REF: 40117ER83
VAR (83) €1,260,000 FAI
St. Paul en Foret. Spacious house with 4/5
double bedrooms, covered terrace and a
large swimming pool. Situated between
Fayence and Saint Paul en Forêt with
amenities close by.
St. Paul en Foret. Maison de 4/5 chambres
avec de beaux volumes et une grande
piscine. A proximité de Fayence.
REF: 41826JTO83
HAUTE-ALPES (05) €488,000 FAI
Ierre la Bessee. Beautiful gîte for sale in
the heart of the Southern Alps.
Fantastic small business situated close to
ski resorts and National Park.
Ierre la Bassée. Gîte en vente dans au coeur
des Alpes du Sud. A proximité des pistes.
REF: 42146JC05
AUDE (11) €107,000 FAI
Trausse. Charming character 18th century
2 bed, 1 bath village house. Beautifully
renovated with pretty little terrace. All
furniture included.
Trausse. Maison de village du 18e. 2 chambres, belle
rénovation et petite terrasse.
REF:42395AS11
GARD (30) €252.390 FAI
Meyrannes. Tastefully restored by English
interior designers, 3 bed stone house in
pretty Gard village. Fabulous view of the
Cevennes mountains to the west.
Meyrannes. Maison en pierres parfaitement
rénové. 3 chambres et magnifiques vues sur
les Céinfo@leggett.frREF: 42523DKA30
PROPERTY GALLERY LEGGETT MAGAZINE
INFO@leggett.fr +33 (0)5 53 60 84 88