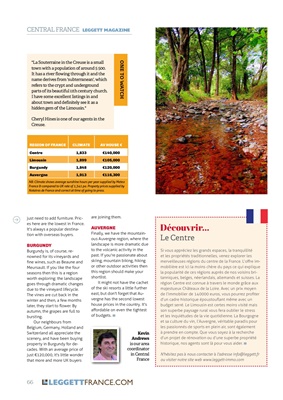 Si vous appréciez les grands espaces, la tranquillité
et les propriétés traditionnelles, venez explorer les
merveilleuses régions du centre de la France. L'offre immobilière
est ici la moins chère du pays ce qui explique
la popularité de ces régions auprès de nos voisins britanniques, belges,
néerlandais, allemands et suisses. La
région Centre est connue à travers le monde grâce aux
majestueux Châteaux de la Loire. Avec un prix moyen
de l'immobilier de 140 000 euros, vous pourrez profiter
d'un cadre historique époustouflant même avec un
budget serré. Le Limousin est certes moins visité mais
son superbe paysage rural vous fera oublier le stress
et les inquiétudes de la vie quotidienne. La Bourgogne
et sa culture du vin, l'Auvergne, véritable paradis pour
les passionnés de sports en plein air, sont également
à prendre en compte. Que vous soyez à la recherche
d'un projet de rénovation ou d'une superbe propriété
historique, nos agents sont là pour vous aider.
N'hésitez pas à nous contacter à l'adresse info@leggett.frttp://leggett.fr" target="_blank" title="Visit leggett.fr">leggett.fr
ou visiter notre site web www.leggett-immo.com
Découvrir...
Le Centre
ONE TO WATCH
"La Souterraine in the Creuse is a small
town with a population of around 5 500.
It has a river flowing through it and the
name derives from 'subterranean', which
refers to the crypt and underground
parts of its beautiful 11th century church.
I have some excellent listings in and
about town and definitely see it as a
hidden gem of the Limousin."
Cheryl Hines is one of our agents in the
Creuse.
Volcanos in Auvergne
NB : Climate shows average sunshine hours per year supplied by Meteo
France & compared to UK rate of 1,341 pa. Property prices supplied by
Notaires de France and correct at time of going to press.
REGION OF FRANCE
CLIMATE
AV HOUSE €
Centre 1,833 €140,000
Limousin 1,899 €105,000
Burgundy 1,848 €120,000
Auvergne 1,913 €116,300
Kevin
Andrews
is our area
coordinator
in Central
France
just need to add furniture. Prices here
are the lowest in France.
It's always a popular destination with overseas
buyers.
BURGUNDY
Burgundy is, of course, renowned
for its vineyards and
fine wines, such as Beaune and
Meursault. If you like the four
seasons then this is a region
worth exploring: the landscape
goes through dramatic changes
due to the vineyard lifecycle.
The vines are cut back in the
winter and then, a few months
later, they start to flower. By
autumn, the grapes are full to
bursting.
Our neighbours from
Belgium, Germany, Holland and
Switzerland all appreciate the
scenery, and have been buying
property in Burgundy for decades. With an average
price of
just €120,000, it's little wonder
that more and more UK buyers
are joining them.
AUVERGNE
Finally, we have the mountainous Auvergne
region, where the
landscape is more dramatic due
to the volcanic activity in the
past. If you're passionate about
skiing, mountain biking, hiking
or other outdoor activities then
this region should make your
shortlist.
It might not have the cachet
of the ski resorts a little further
east, but don't forget that Auvergne
has the second lowest
house prices in the country. It's
affordable on even the tightest
of budgets.
CENTRAL FRANCE LEGGETT MAGAZINE