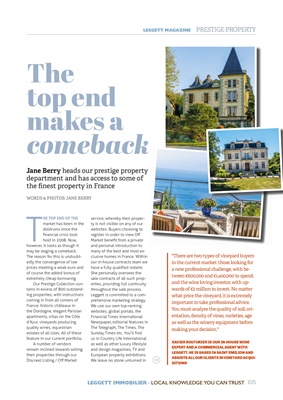 T
HE TOP END OF THE
market has been in the
doldrums since the
financial crisis took
hold in 2008. Now,
however, it looks as though it
may be staging a comeback.
The reason for this is undoubtedly the convergence
of low
prices meeting a weak euro and
of course the added bonus of
extremely cheap borrowing.
Our Prestige Collection contains in excess
of 800 outstanding properties,
with instructions
coming in from all corners of
France: historic châteaux in
the Dordogne, elegant Parisian
apartments, villas on the Côte
d'Azur, vineyards producing
quality wines, equestrian
estates of all sizes. All of these
feature in our current portfolio.
A number of vendors
remain inclined towards selling
their properties through our
Discreet Listing / Off Market
service, whereby their property is not visible on any of
our
websites. Buyers choosing to
register in order to view Off
Market benefit from a private
and personal introduction to
many of the best and most exclusive
homes in France. Within
our in-house contracts team we
have a fully qualified notaire.
She personally oversees the
sale contracts of all such properties, providing
full continuity
throughout the sale process.
Leggett is committed to a comprehensive
marketing strategy.
We use our own top-ranking
websites, global portals, the
Financial Times International
Newspaper, editorial features in
The Telegraph, The Times, The
Sunday Times etc. You'll find
us in Country Life International
as well as other luxury lifestyle
and design magazines, TV and
European property exhibitions.
We leave no stone unturned in
The
top end
makes a
comeback
Jane Berry heads our prestige property
department and has access to some of
the finest property in France
WORDS & PHOTOS: JANE BERRY
"There are two types of vineyard buyers
in the current market: those looking for
a new professional challenge, with between
€600,000 and €1,400,000 to spend;
and the wine loving investor, with upwards
of €2 million to invest. No matter
what price the vineyard, it is extremely
important to take professional advice.
You must analyse the quality of soil, orientation,
density of vines, varieties, age
as well as the winery equipment before
making your decision."
XAVIER ROUTURIER IS OUR IN-HOUSE WINE
EXPERT AND A COMMERCIAL AGENT WITH
LEGGETT. HE IS BASED IN SAINT EMILION AND
ASSISTS ALL OUR CLIENTS IN VINEYARD ACQUISITIONS
105
LEGGETT MAGAZINE PRESTIGE PROPERTY
LEGGETT IMMOBILIER - LOCAL KNOWLEDGE YOU CAN TRUST