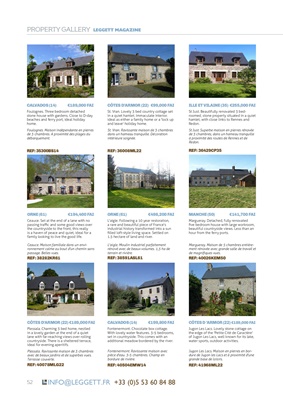 52
PROPERTY GALLERY LEGGETT MAGAZINE
CALVADOS (14) €189,000 FAI
Foulognes. Three bedroom detached
stone house with gardens. Close to D-day
beaches and ferry port, ideal holiday
home.
Foulognes. Maison indépendante en pierres
de 3 chambres. A proximité des plages du
débarquement.
REF: 35300BS14
CÔTES D'ARMOR (22) €99,000 FAI
St. Vran. Lovely 3 bed country cottage set
in a quiet hamlet. Immaculate interior.
ideal as either a family home or a 'lock up
and leave' holiday home.
St. Vran. Ravissante maison de 3 chambres
dans un hameau tranquille. Décoration
intérieure soignée.
REF: 36008ML22
ILLE ET VILAINE (35) €255,000 FAI
St Just. Beautifully renovated 3 bedroomed,
stone property situated in a quiet
hamlet, with close links to Rennes and
Redon.
St Just. Superbe maison en pierres rénovée
de 3 chambres, dans un hameau tranquille
à proximité des routes de Rennes et de
Redon.
REF: 36429CP35
ORNE (61) €194,400 FAI
Ceauce. Set at the end of a lane with no
passing traffic and some good views over
the countryside to the front, this really
is a haven of peace and quiet, ideal for a
family looking to live the good life.
Ceauce. Maison familiale dans un environnement calme
au bout d'un chemin sans
passage. Belles vues.
REF: 38282KR61
ORNE (61) €498,200 FAI
L'aigle. Following a 10 year restoration,
a rare and beautiful piece of France's
industrial history transformed into a sun
filled loft-style living space. Settled on
1.5 hectare of land and river.
L'aigle. Moulin industriel parfaitement
rénové avec de beaux volumes. 1,5 ha de
terrain et rivière.
REF: 38591ASL61
MANCHE (50) €141,700 FAI
Margueray. Detached, fully renovated
five bedroom house with large workroom,
beautiful countryside views. Less than an
hour from the ferry ports.
Margueray. Maison de 5 chambres entièrement rénovée
avec grande salle de travail et
de magnifiques vues.
REF: 40026KEM50
CÔTES D'ARMOR (22) €189,000 FAI
Plessala. Charming 3 bed home, nestled
in a lovely garden at the end of a quiet
lane with far-reaching views over rolling
countryside. There is a sheltered terrace,
ideal for evening aperitifs.
Plessala. Ravissante maison de 3 chambres
avec de beaux jardins et de superbes vues.
Terrasse couverte.
REF: 40078MLG22
CALVADOS (14) €199,800 FAI
Fontenermont. Chocolate box cottage.
With lovely water features. 3-5 bedrooms,
set in countryside. This comes with an
additional meadow bordered by the river.
Fontenermont. Ravissante maison avec
pièce d'eau. 3-5 chambres. Champ en
bordure de rivière.
REF: 40504EMW14
CÔTES D 'ARMOR (22) €189,000 FAI
Jugon Les Lacs. Lovely stone cottage on
the edge of the 'Petite Cité de Caractère'
of Jugon Les Lacs, well known for its lake,
water sports, outdoor activities.
Jugon Les Lacs. Maison en pierres en bordure de Jugon les Lacs
et à proximité d'une
grande base de loisirs.
REF: 41968ML22
info@leggett.frttp://leggett.fr" target="_blank" title="Visit leggett.fr">leggett.fr +33 (0)5 53 60 84 88