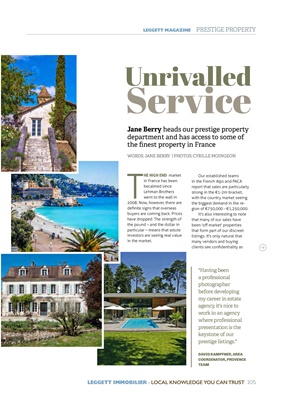 T
HE HIGH END market
in France has been
becalmed since
Lehman Brothers
went to the wall in
2008. Now, however, there are
definite signs that overseas
buyers are coming back. Prices
have dropped. The strength of
the pound - and the dollar in
particular - means that astute
investors are seeing real value
in the market.
Our established teams
in the French Alps and PACA
report that sales are particularly
strong in the €1-2m bracket,
with the country market seeing
the biggest demand in the region of
€750,000 - €1,250,000.
It's also interesting to note
that many of our sales have
been 'off market' properties
that form part of our discreet
listings. It's only natural that
many vendors and buying
clients see confidentiality as
Unrivalled
ServiceJane Berry heads our prestige property
department and has access to some of
the finest property in France
WORDS: JANE BERRY | PHOTOS: CYRILLE MOINGEON
"Having been
a professional
photographer
before developing
my career in estate
agency, it's nice to
work in an agency
where professional
presentation is the
keystone of our
prestige listings."
DAVID KAMPFNER, AREA
COORDINATOR, PROVENCE
TEAM
LEGGETT IMMOBILIER - LOCAL KNOWLEDGE YOU CAN TRUST 105
LEGGETT MAGAZINE PRESTIGE PROPERTY