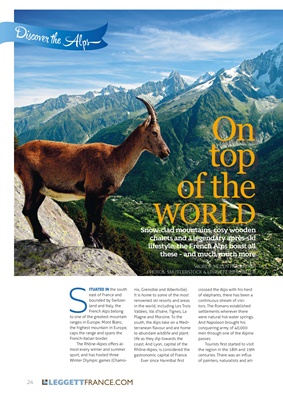 On
top
of the
WORLDSnow-clad mountains, cosy wooden
chalets and a legendary après-ski
lifestyle: the French Alps boast all
these - and much, much more
S
ITUATED IN the south
east of France and
bounded by Switzerland and Italy,
the
French Alps belong
to one of the greatest mountain
ranges in Europe. Mont Blanc,
the highest mountain in Europe,
caps the range and spans the
French-Italian border.
The Rhône-Alpes offers almost every
winter and summer
sport, and has hosted three
Winter Olympic games (Chamonix, Grenoble
and Albertville).
It is home to some of the most
renowned ski resorts and areas
in the world, including Les Trois
Vallées, Val d'Isère, Tignes, La
Plagne and Morzine. To the
south, the Alps take on a Mediterranean
flavour and are home
to abundant wildlife and plant
life as they dip towards the
coast. And Lyon, capital of the
Rhône-Alpes, is considered the
gastronomic capital of France.
Ever since Hannibal first
crossed the Alps with his herd
of elephants, there has been a
continuous stream of visitors.
The Romans established
settlements wherever there
were natural hot water springs.
And Napoleon brought his
conquering army of 40,000
men through one of the Alpine
passes.
Tourists first started to visit
the region in the 18th and 19th
centuries. There was an influx
of painters, naturalists and art24
WORDS: HELEN HOLBROOK
PHOTOS: SHUTTERSTOCK & LEGGETT IMMOBILIER
D�c�� ��e Al�