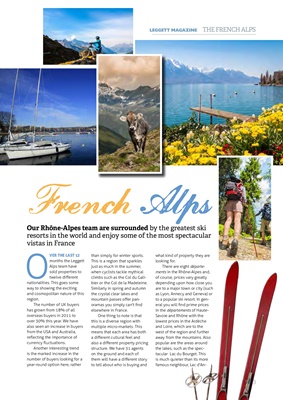 73
O
VER THE LAST 12
months the Leggett
Alps team have
sold properties to
twelve different
nationalities. This goes some
way to showing the exciting
and cosmopolitan nature of this
region.
The number of UK buyers
has grown from 18% of all
overseas buyers in 2011 to
over 30% this year. We have
also seen an increase in buyers
from the USA and Australia,
reflecting the importance of
currency fluctuations.
Another interesting trend
is the marked increase in the
number of buyers looking for a
year-round option here, rather
than simply for winter sports.
This is a region that sparkles
just as much in the summer,
when cyclists tackle mythical
climbs such as the Col du Galibier or the Col
de la Madeleine.
Similarly in spring and autumn
the crystal clear lakes and
mountain passes offer panoramas
you simply can't find
elsewhere in France.
One thing to note is that
this is a diverse region with
multiple micro-markets. This
means that each area has both
a different cultural feel and
also a different property pricing
structure. We have 31 agents
on the ground and each of
them will have a different story
to tell about who is buying and
French AlpsOur Rhône-Alpes team are surrounded by the greatest ski
resorts in the world and enjoy some of the most spectacular
vistas in France
what kind of property they are
looking for.
There are eight départements
in the Rhône-Alpes and,
of course, prices vary greatly
depending upon how close you
are to a major town or city (such
as Lyon, Annecy and Geneva) or
to a popular ski resort. In general
you will find prime prices
in the départements of Haute-
Savoie and Rhône with the
lowest prices in the Ardèche
and Loire, which are to the
west of the region and further
away from the mountains. Also
popular are the areas around
the lakes, such as the spectacular Lac du Bourget.
This
is much quieter than its more
famous neighbour, Lac d'AnLEGGETT
MAGAZINE THE FRENCH ALPS