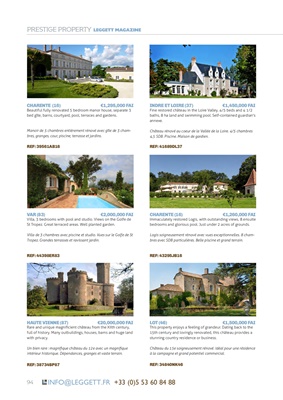 94
PRESTIGE PROPERTY LEGGETT MAGAZINE
CHARENTE (16) €1,295,000 FAI
Beautiful fully renovated 5 bedroom manor house, separate 3
bed gîte, barns, courtyard, pool, terraces and gardens.
Manoir de 5 chambres entièrement rénové avec gîte de 3 chambres, granges,
cour, piscine, terrasse et jardins.
REF: 39561AB16
INDRE ET LOIRE (37) €1,450,000 FAI
Fine restored château in the Loire Valley. 4/5 beds and 4 1/2
baths, 8 ha land and swimming pool. Self-contained guardian's
annexe.
Château rénové au coeur de la Vallée de la Loire. 4/5 chambres
4,5 SDB. Piscine. Maison de gardien.
REF: 41689DL37
VAR (83) €2,000,000 FAI
Villa, 3 bedrooms with pool and studio. Views on the Golfe de
St Tropez. Great terraced areas. Well planted garden.
Villa de 3 chambres avec piscine et studio. Vues sur le Golfe de St
Tropez. Grandes terrasses et ravissant jardin.
REF: 44398ER83
CHARENTE (16) €1,260,000 FAI
Immaculately restored Logis, with outstanding views, 8 ensuite
bedrooms and glorious pool. Just under 2 acres of grounds.
Logis soigneusement rénové avec vues exceptionnelles. 8 chambres avec SDB particulières.
Belle piscine et grand terrain.
REF: 43295JB16
HAUTE VIENNE (87) €20,000,000 FAI
Rare and unique magnificient château from the XIIth century,
full of history. Many outbuildings, houses, barns and huge land
with privacy.
Un bien rare : magnifique château du 12e avec un magnifique
intérieur historique. Dépendances, granges et vaste terrain.
REF: 38734SP87
LOT (46) €1,500,000 FAI
This property enjoys a feeling of grandeur. Dating back to the
15th century and lovingly renovated, this château provides a
stunning country residence or business.
Château du 15e soigneusement rénové. Idéal pour une résidence
à la campagne et grand potentiel commercial.
REF: 34840NK46
info@leggett.frttp://leggett.fr" target="_blank" title="Visit leggett.fr">leggett.fr +33 (0)5 53 60 84 88