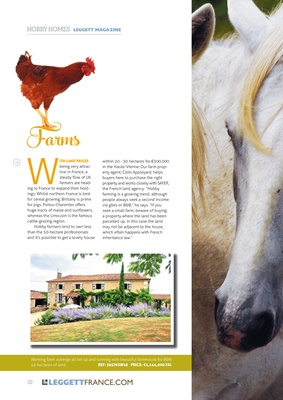 Farms
W
ITH LAND PRICES
being very attractive
in France, a
steady flow of UK
farmers are heading to France
to expand their holdings. Whilst northern France
is best
for cereal growing, Brittany is prime
for pigs. Poitou-Charentes offers
huge tracts of maize and sunflowers,
whereas the Limousin is the famous
cattle-grazing region.
Hobby farmers tend to own less
than the 50-hectare professionals
and it's possible to get a lovely house
within 20 - 30 hectares for €300,000
in the Haute-Vienne. Our farm property agent,
Colin Appleyard, helps
buyers here to purchase the right
property and works closely with SAFER,
the French land agency. "Hobby
farming is a growing trend, although
people always seek a second income
via gîtes or B&B," he says. "If you
seek a small farm, beware of buying
a property where the land has been
parcelled up. In this case the land
may not be adjacent to the house,
which often happens with French
inheritance law."
Working farm auberge all set up and running with beautiful farmhouse for B&B.
43 hectares of land REF: 56576SW16 PRICE: €1,144,000 FAI
HOBBY HOMES LEGGETT MAGAZINE