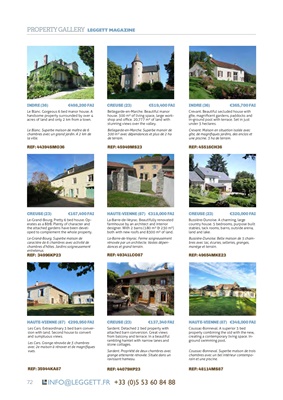 72
PROPERTY GALLERY LEGGETT MAGAZINE
INDRE (36) €498,200 FAI
Le Blanc. Gorgeous 6 bed manor house. A
handsome property surrounded by over 4
acres of land and only 2 km from a town.
Le Blanc. Superbe maison de maître de 6
chambres avec un grand jardin. A 2 km de
la ville.
REF: 44394SMO36
CREUSE (23) €519,400 FAI
Bellegarde-en-Marche. Beautiful manor
house. 300 m² of living space, large workshop and office.
20,777 m² of land with
stunning views over the valley.
Bellegarde-en-Marche. Superbe manoir de
300 m² avec dépendances et plus de 2 ha
de terrain.
REF: 45949MS23
INDRE (36) €365,700 FAI
Crevant. Beautiful secluded house with
gîte, magnificent gardens, paddocks and
in-ground pool with terrace. Set in just
under 3 hectares.
Crevant. Maison en situation isolée avec
gîte, de magnifiques jardins, des enclos et
une piscine. 3 ha de terrain.
REF: 45516CH36
CREUSE (23) €167,400 FAI
Le-Grand-Bourg. Pretty 6 bed house. Operates
as a B&B. Plenty of character and
the attached gardens have been developed to complement
the whole property.
Le-Grand-Bourg. Superbe maison de
caractère de 6 chambres avec activité de
chambres d'hôtes. Jardins soigneusement
entretenus.
REF: 34996KP23
HAUTE-VIENNE (87) €318,000 FAI
La-Barre-de-Veyrac. Beautifully renovated
farmhouse by an architect and interior
designer. With 2 barns (180 m² & 230 m²)
both with new roofs and 8300 m² of land.
La-Barre-de-Veyrac. Ferme soigneusement
rénovée par un architecte. Vastes dépendances et grand
terrain.
REF: 49341LCO87
CREUSE (23) €320,000 FAI
Bussière-Dunoise. A charming, large
country house. 5 bedrooms, purpose built
stables, tack rooms, barns, outside arena,
land and lake.
Bussière-Dunoise. Belle maison de 5 chambres avec lac, écuries,
selleries, granges,
manège et terrain.
REF: 49654MKE23
HAUTE-VIENNE (87) €299,950 FAI
Les Cars. Extraordinary 3 bed barn conversion with land. Second
house to convert
and sumptuous views.
Les Cars. Grange rénovée de 3 chambres
avec 2e maison à rénover et de magnifiques
vues.
REF: 35944KA87
CREUSE (23) €137,340 FAI
Sardent. Detached 2 bed property with
attached barn conversion. Great views
from balcony and terrace. In a beautiful
rambling hamlet with narrow lanes and
stone cottages.
Sardent. Propriété de deux chambres avec
grange attenante rénovée. Située dans un
ravissant hameau.
REF: 44079HP23
HAUTE-VIENNE (87) €348,000 FAI
Coussac-Bonneval. A superior 3 bed
property combining the old with the new,
creating a contemporary living space. Inground
swimming pool.
Coussac-Bonneval. Superbe maison de trois
chambres avec un bel intérieur contemporain
et une piscine.
REF: 48114MS87
info@leggett.frttp://leggett.fr" target="_blank" title="Visit leggett.fr">leggett.fr +33 (0)5 53 60 84 88