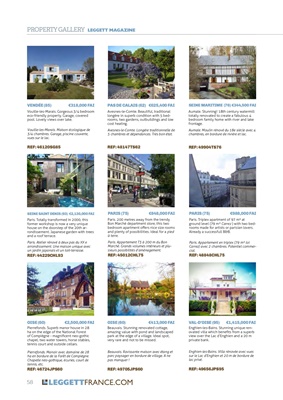 58
PROPERTY GALLERY LEGGETT MAGAZINE
OISE (60) €2,500,000 FAI
Pierrefonds. Superb manor house in 28
ha on the edge of the National Forest
of Compiègne - magnificent neo-gothic
chapel, two water towers, horse stables,
tennis court and outside cellars.
Pierrefonds. Manoir avec domaine de 28
ha en bordure de la Forêt de Compiègne.
Chapelle néo-gothique, écuries, court de
tennis, etc.
REF: 46724JPS60
OISE (60) €413,000 FAI
Beauvais. Stunning renovated cottage,
amazing value with pond and landscaped
park at the edge of a village. Ideal spot,
very rare and not to be missed.
Beauvais. Ravissante maison avec étang et
parc paysager en bordure de village. A ne
pas manquer !
REF: 49705JPS60
VAL-D'OISE (95) €1,415,000 FAI
Enghien-les-Bains. Stunning unique renovated
villa which benefits from a superb
view over the Lac d'Enghien and a 20 m
private bank.
Enghien-les-Bains. Villa rénovée avec vues
sur le Lac d'Enghien et 20 m de bordure de
lac privé.
REF: 49656JPS95
VENDÉE (85) €318,000 FAI
Vouille-les-Marais. Gorgeous 3/4 bedroom
eco-friendly property. Garage, covered
pool. Lovely views over lake.
Vouille-les-Marais. Maison écologique de
3/4 chambres. Garage, piscine couverte,
vues sur le lac.
REF: 46120SG85
PAS DE CALAIS (62) €625,400 FAI
Avesnes-le-Comte. Beautiful, traditional
longère in superb condition with 5 bedrooms,
two gardens, outbuildings and low
cost heating.
Avesnes-le-Comte. Longère traditionnelle de
5 chambres et dépendances. Très bon état.
REF: 48147TS62
SEINE SAINT DENIS (93) €2,130,000 FAI
Paris. Totally transformed in 2000, this
former workshop is now a very unique
house on the doorstep of the 20th arrondissement.
Japanese garden with trees
and a roof terrace.
Paris. Atelier rénové à deux pas du XX e
arrondissement. Une maison unique avec
un jardin japonais et un toit-terrasse.
REF: 44229CHL93
PARIS (75) €848,000 FAI
Paris. 200 metres away from the trendy
Bon Marché department store, this two
bedroom apartment offers nice size rooms
and plenty of possibilities. Ideal for a pied
à terre.
Paris. Appartement T3 à 200 m du Bon
Marché. Grands volumes intérieurs et plusieurs possibilités d'aménagement.
REF: 45012CHL75
SEINE MARITIME (76) €344,500 FAI
Aumale. Stunning! 18th century watermill
totally renovated to create a fabulous 4
bedroom family home with river and lake
frontage.
Aumale. Moulin rénové du 18e siècle avec 4
chambres, en bordure de rivière et lac.
REF: 49904TS76
PARIS (75) €988,000 FAI
Paris. Triplex apartment of 97 m² at
ground level (79 m² Carrez ) with two bedrooms
made for artists or parisian lovers.
Already a successfull B&B.
Paris. Appartement en triplex (79 m² loi
Carrez) avec 2 chambres. Potentiel commercial.
REF: 48848CHL75