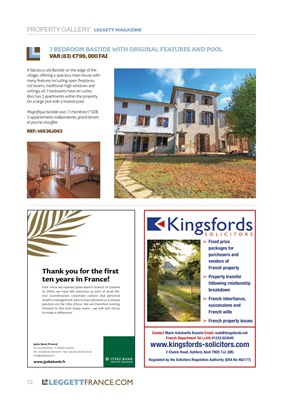 ➢ Fixed price
packages for
purchasers and
vendors of
French property
➢ Property transfer
following relationship
breakdown
➢ French inheritance,
successions and
French wills
➢ French property issues
Contact Marie Antoinette Bassini Email: mab@kingsfords.net//kingsfords.net" target="_blank" title="Visit kingsfords.net">kingsfords.net
French Department Tel (+44) 01233.624545
2 Elwick Road, Ashford, Kent TN25 7JJ (UK)
Regulated by the Solicitors Regulation Authority (SRA No 462177)
72
7 BEDROOM BASTIDE WITH ORIGINAL FEATURES AND POOL
VAR (83) €799, 000 FAI
A fabulous old Bastide on the edge of the
village, offering a spacious main house with
many features including open fireplaces,
old beams, traditional high windows and
ceilings; all 7 bedrooms have en suites.
Also has 3 apartments within the property.
On a large plot with a heated pool.
Magnifique bastide avec 7 chambres/7 SDB,
3 appartements indépendants, grand terrain
et piscine chauffée.
REF: 46536JD83
Pinfo@jyskebank.frEGGETT MAGAZINE
Jyske Bank (France)
53, rue d'Antibes • F-06400 Cannes
Tlf. +33 (0)4 93 39 39 00 • Fax +33 (0)4 93 39 39 02
info@jyskebank.fr
Thank you for the first
ten years in France!
Ever since we opened Jyske Bank's branch in Cannes
in 2004, we have felt welcome as part of local life.
Our Scandinavian corporate culture and personal
wealth management advice have allowed us a unique
position on the Côte d'Azur. We are therefore looking
forward to the next many years - we will still strive
to make a difference.