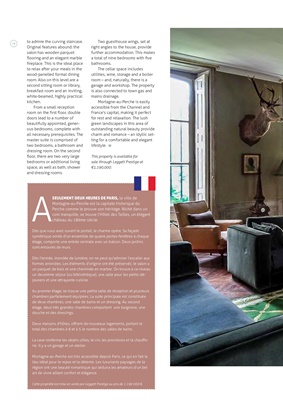 to admire the curving staircase.
Original features abound: the
salon has wooden parquet
flooring and an elegant marble
fireplace. This is the ideal place
to relax after your meals in the
wood-panelled formal dining
room. Also on this level are a
second sitting room or library,
breakfast room and an inviting,
white-beamed, highly practical
kitchen.
From a small reception
room on the first floor, double
doors lead to a number of
beautifully appointed, generous bedrooms,
complete with
all necessary prerequisites. The
master suite is comprised of
two bedrooms, a bathroom and
dressing room. On the second
floor, there are two very large
bedrooms or additional living
space, as well as bath, shower
and dressing rooms.
Two guesthouse wings, set at
right angles to the house, provide
further accommodation. This makes
a total of nine bedrooms with five
bathrooms.
The cellar space includes
utilities, wine, storage and a boiler
room - and, naturally, there is a
garage and workshop. The property
is also connected to town gas and
mains drainage.
Mortagne-au-Perche is easily
accessible from the Channel and
France's capital, making it perfect
for rest and relaxation. The lush
green landscapes in this area of
outstanding natural beauty provide
charm and romance - an idyllic setting for
a comfortable and elegant
lifestyle.
This property is available for
sale through Leggett Prestige at
€1,190,000.
A
SEULEMENT DEUX HEURES DE PARIS, la ville de
Mortagne-au-Perche est la capitale historique du
Perche comme le prouve son héritage. Niché dans un
coin tranquille, se trouve l'Hôtel des Tailles, un élégant
château du 18ème siècle.
Dès que vous avez ouvert le portail, le charme opère. Sa façade
symétrique ornée d'un ensemble de quatre portes-fenêtres à chaque
étage, comporte une entrée centrale avec un balcon. Deux jardins
sont entourés de murs .
Dès l'entrée, inondée de lumière, on ne peut qu'admirer l'escalier aux
formes arrondies. Les éléments d'origine ont été préservés : le salon a
un parquet de bois et une cheminée en marbre. On trouve à ce niveau
un deuxième séjour (ou bibliothèque), une salle pour les petits-déjeuners
et une attrayante cuisine.
Au premier étage, se trouve une petite salle de réception et plusieurs
chambres parfaitement équipées. La suite principale est constituée
de deux chambres, une salle de bains et un dressing. Au second
étage, deux très grandes chambres comportent une baignoire, une
douche et des dressings.
Deux maisons d'hôtes, offrent de nouveaux logements, portant le
total des chambres à 9 et à 5 le nombre des salles de bains.
La cave renferme les objets utiles, le vin, les provisions et la chaufferie.
Il y a un garage et un atelier.
Mortagne-au-Perche est très accessible depuis Paris, ce qui en fait le
lieu idéal pour le repos et la détente. Les luxuriants paysages de la
région ont une beauté romantique qui séduira les amateurs d'un bel
art de vivre alliant confort et élégance.
Cette propriété est mise en vente par Leggett Prestige au prix de 1 190 000 €.