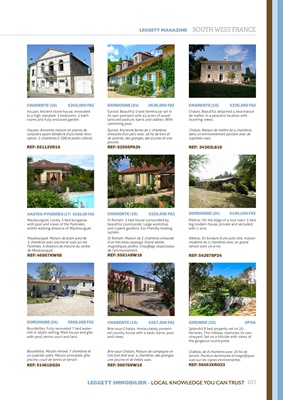 103
CHARENTE (16) €267,500 FAI
Brie-sous-Chalais. Immaculately presented country
house with 4 beds, barns, pool
and views.
Brie-sous-Chalais. Maison de campagne en
très bon état avec 4 chambres, des granges,
une piscine et de belles vues.
REF: 56676SW16
CHARENTE (16) €245,000 FAI
Vouzan. Ancient stone house, renovated
to a high standard. 3 bedrooms, 2 bathrooms
and fully enclosed garden.
Vouzan. Ancienne maison en pierres de
caractère ayant bénéficié d'une belle rénovation.
3 chambres/2 SDB et jardin clôturé.
REF: 55112VD16
DORDOGNE (24) €636,000 FAI
Eyvirat. Beautiful 5 bed farmhouse set in
its own parkland with 45 acres of woodland and pasture,
barns and stables. With
swimming pool.
Eyvirat. Ancienne ferme de 5 chambres
entourée d'un parc avec 18 ha de bois et
de prairies, des granges, des écuries et une
piscine.
REF: 52565PA24
CHARENTE (16) €326,650 FAI
Chalais. Beautiful detached 4 bed maison
de maÎtre. In a peaceful location with
stunning views.
Chalais. Maison de maître de 4 chambres
dans un environnement paisible avec de
superbes vues.
REF: 34303LS16
HAUTES-PYRÉNÉES (17) €225,00 FAI
Maubourguet. Lovely 3 bed bungalow
with pool and views of the Pyrénées.
within walking distance of Maubourguet.
Maubourguet. Maison de plain-pied de
3 chambres avec piscine et vues sur les
Pyrénées. A distance de marche du centre
de Maubourguet.
REF: 46907KW65
CHARENTE (16) €228,900 FAI
St Romain. 3 bed house surrounded by
beautiful countryside. Large workshop
and superb gardens. Eco friendly heating
system.
St Romain. Maison de 3 chambres entourée
d'un très beau paysage. Grand atelier,
magnifiques jardins. Chauffage respectueux
de l'environnement.
REF: 55814SW16
GIRONDE (33) €POA
Splendid 8 bed property set on 20
hectares. The château overlooks its own
vineyard. Set on a hillside with views of
the gorgeous countryside.
Château de 8 chambres avec 20 ha de
terrain. Position dominante et magnifiques
vues sur les vignes environnantes.
REF: 56453XRO33
DORDOGNE (24) €194,400 FAI
Ribérac. On the edge of a nice town. 5 bed
big modern house, private and secluded
with 1 acre.
Ribérac. En bordure d'une jolie ville, maison
moderne de 5 chambres avec un grand
terrain sans vis-à-vis.
REF: 54267SP24
DORDOGNE (24) €689,000 FAI
Bourdeilles. Fully renovated 7 bed watermill in idyllic setting.
Main house and gÎte
with pool, tennis court and land.
Bourdeilles. Moulin rénové, 7 chambres et
un superbe cadre. Maison principale, gîte,
piscine, court de tennis et terrain.
REF: 51461DG24
LEGGETT IMMOBILIER - LOCAL KNOWLEDGE YOU CAN TRUST
LEGGETT MAGAZINE SOUTH WEST FRANCE