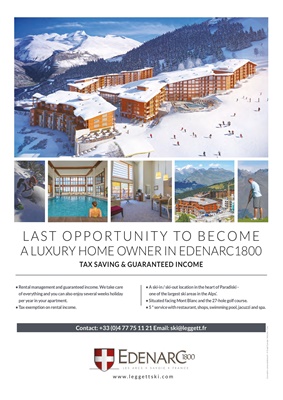 Conception : www.clairdelune.fr - © Graph Synergie ; Seb Léon ; T Shu LAST OPPORTUNITY TO BECOME
A LUXURY HOME OWNER IN EDENARC1800
TAX SAVING & GUARANTEED INCOME
• Rental management and guaranteed income. We take care
of everything and you can also enjoy several weeks holiday
per year in your apartment.
• Tax exemption on rental income.
• A ski-in / ski-out location in the heart of Paradiski -
one of the largest ski areas in the Alps'.
• Situated facing Mont Blanc and the 27-hole golf course.
• 5 * service with restaski@leggett.frswimming pool, jacuzzi and spa.
Contact: +33 (0)4 77 75 11 21 Email: ski@leggett.fr