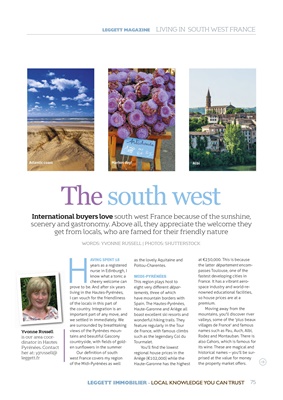 LEGGETT IMMOBILIER - LOCAL KNOWLEDGE YOU CAN TRUST 75
H
AVING SPENT 18
years as a registered
nurse in Edinburgh, I
know what a tonic a
cheery welcome can
prove to be. And after six years
living in the Hautes-Pyrénées,
I can vouch for the friendliness
of the locals in this part of
the country. Integration is an
important part of any move, and
we settled in immediately. We
are surrounded by breathtaking
views of the Pyrénées mountains and beautiful Gascony
countryside, with fields of golden sunflowers
in the summer
Our definition of south
west France covers my region
of the Midi-Pyrénées as well
as the lovely Aquitaine and
Poitou-Charentes.
MIDI-PYRÉNÉES
This region plays host to
eight very different départements,
three of which
have mountain borders with
Spain. The Hautes-Pyrénées,
Haute-Garonne and Ariège all
boast excellent ski resorts and
wonderful hiking trails. They
feature regularly in the Tour
de France, with famous climbs
such as the legendary Col du
Tourmalet.
You'll find the lowest
regional house prices in the
Ariège (€102,000) while the
Haute-Garonne has the highest
The south west
International buyers love south west France because of the sunshine,
scenery and gastronomy. Above all, they appreciate the welcome they
get from locals, who are famed for their friendly nature
WORDS: YVONNE RUSSELL | PHOTOS: SHUTTERSTOCK
at €230,000. This is because
the latter département encompasses
Toulouse, one of the
fastest developing cities in
France. It has a vibrant aerospace
industry and world-renowned
educational facilities,
so house prices are at a
premium.
Moving away from the
mountains, you'll discover river
valleys, some of the 'plus beaux
villages de France' and famous
names such as Pau, Auch, Albi,
Rodez and Montauban. There is
also Cahors, which is famous for
its wine. These are magical and
historical names - you'll be surprised at the value for
money
the property market offers.
Yvonne Russell
is our area coordinator
in Hautes
Pyrénées. Contact
her at: yjrussell@
LEGGETT MAGAZINE LIVING IN SOUTH WEST FRANCE
Albi
Atlantic coast Market day!