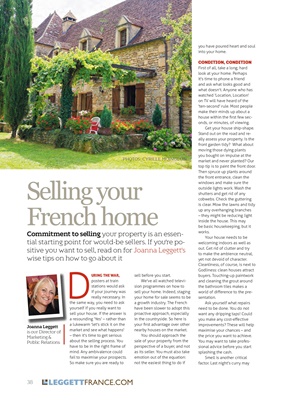 Joanna Leggett
is our Director of
Marketing &
Public Relations
D
URING THE WAR,
posters at train
stations would ask
if your journey was
really necessary. In
the same way, you need to ask
yourself if you really want to
sell your house. If the answer is
a resounding 'Yes' - rather than
a lukewarm 'let's stick it on the
market and see what happens'
- then it's time to get serious
about the selling process. You
have to be in the right frame of
mind. Any ambivalence could
fail to maximise your prospects.
So make sure you are ready to
sell before you start.
We've all watched television programmes
on how to
sell your home. Indeed, staging
your home for sale seems to be
a growth industry. The French
have been slower to adopt this
proactive approach, especially
in the countryside. So here is
your first advantage over other
nearby houses on the market.
You should approach the
sale of your property from the
perspective of a buyer, and not
as its seller. You must also take
emotion out of the equation:
not the easiest thing to do if
you have poured heart and soul
into your home.
CONDITION, CONDITION
First of all, take a long, hard
look at your home. Perhaps
it's time to phone a friend
and ask what looks good and
what doesn't. Anyone who has
watched 'Location, Location'
on TV will have heard of the
'ten-second' rule. Most people
make their minds up about a
house within the first few seconds, or minutes, of
viewing.
Get your house ship-shape.
Stand out on the road and really assess
your property. Is the
front garden tidy? What about
moving those dying plants
you bought on impulse at the
market and never planted? Our
top tip is to paint the front door.
Then spruce up plants around
the front entrance, clean the
windows and make sure the
outside lights work. Wash the
shutters and get rid of any
cobwebs. Check the guttering
is clear. Mow the lawns and tidy
up any overhanging branches
- they might be reducing light
inside the house. This may
be basic housekeeping, but it
works.
Your house needs to be
welcoming indoors as well as
out. Get rid of clutter and try
to make the ambience neutral,
yet not devoid of character.
Cleanliness, of course, is next to
Godliness: clean houses attract
buyers. Touching-up paintwork
and cleaning the grout around
the bathroom tiles makes a
world of difference to the presentation.
Ask yourself what repairs
need to be done. You do not
want any dripping taps! Could
you make any cost-effective
improvements? These will help
maximise your chances - and
the price you want to achieve.
You may want to take professional advice
before you start
splashing the cash.
Smell is another critical
factor. Last night's curry may
Selling your
French home
Commitment to selling your property is an essential starting point for
would-be sellers. If you're positive
you want to sell, read on for Joanna Leggett's
wise tips on how to go about itPHOTOS: CYRILLE MOINGEON