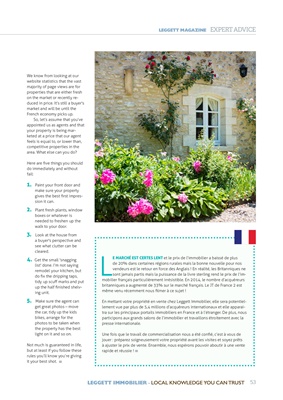 LEGGETT IMMOBILIER - LOCAL KNOWLEDGE YOU CAN TRUST
L
E MARCHÉ EST CERTES LENT et le prix de l'immobilier a baissé de plus
de 20% dans certaines régions rurales mais la bonne nouvelle pour nos
vendeurs est le retour en force des Anglais  ! En réalité, les Britanniques ne
sont jamais partis mais la puissance de la livre sterling rend le prix de l'immobilier français
particulièrement irrésistible. En 2014, le nombre d'acquéreurs
britanniques a augmenté de 33% sur le marché français. Le JT de France 2 est
même venu récemment nous filmer à ce sujet !
En mettant votre propriété en vente chez Leggett Immobilier, elle sera potentiellement vue par plus de 5,4 millions d'acquéreurs
internationaux et elle apparaitra
sur les principaux portails immobiliers en France et à l'étranger. De plus, nous
participons aux grands salons de l'immobilier et travaillons étroitement avec la
presse internationale.
Une fois que le travail de commercialisation nous a été confié, c'est à vous de
jouer  : préparez soigneusement votre propriété avant les visites et soyez prêts
à ajuster le prix de vente. Ensemble, nous espérons pouvoir aboutir à une vente
rapide et réussie  !
We know from looking at our
website statistics that the vast
majority of page views are for
properties that are either fresh
on the market or recently reduced
in price. It's still a buyer's
market and will be until the
French economy picks up.
So, let's assume that you've
appointed us as agents and that
your property is being marketed
at a price that our agent
feels is equal to, or lower than,
competitive properties in the
area. What else can you do?
Here are five things you should
do immediately and without
fail:
1. Paint your front door and
make sure your property
gives the best first impres-
sion it can.
2. Plant fresh plants, window
boxes or whatever is
needed to freshen up the
walk to your door.
3. Look at the house from
a buyer's perspective and
see what clutter can be
cleared.
4. Get the small 'snagging
list' done. I'm not saying
remodel your kitchen, but
do fix the dripping taps,
tidy up scuff marks and put
up the half finished shelv ing unit.
5. Make sure the agent can
get great photos - move
the car, tidy up the kids
bikes, arrange for the
photos to be taken when
the property has the best
light on it and so on.
Not much is guaranteed in life,
but at least if you follow these
rules you'll know you're giving
it your best shot.
53
LEGGETT MAGAZINE EXPERT ADVICE