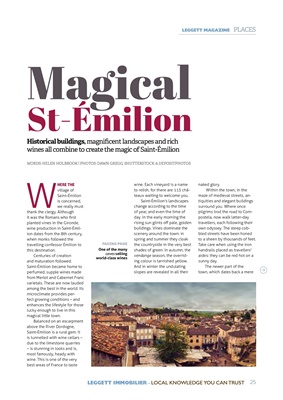 LEGGETT IMMOBILIER - LOCAL KNOWLEDGE YOU CAN TRUST 25
Magical
St-ÉmilionHistorical buildings, magnificent landscapes and rich
wines all combine to create the magic of Saint-Émilion
wine. Each vineyard is a name
to relish, for there are 113 châteaux waiting to welcome
you.
Saint-Émilion's landscapes
change according to the time
of year, and even the time of
day. In the early morning the
rising sun glints off pale, golden
buildings. Vines dominate the
scenery around the town: in
spring and summer they cloak
the countryside in the very best
shades of green. In autumn, the
vendange season, the overriding colour
is tarnished yellow.
And in winter the undulating
slopes are revealed in all their
naked glory.
Within the town, in the
maze of medieval streets, antiquities and elegant
buildings
surround you. Where once
pilgrims trod the road to Compostela, now
walk latter-day
travellers, each following their
own odyssey. The steep cobbled streets
have been honed
to a sheen by thousands of feet.
Take care when using the iron
handrails placed as travellers'
aides: they can be red hot on a
sunny day.
The newer part of the
town, which dates back a mere
FACING PAGE
One of the many
caves selling
world-class wines
LEGGETT MAGAZINE PLACES
W
HERE THE
village of
Saint-Émilion
is concerned,
we really must
thank the clergy. Although
it was the Romans who first
planted vines in the Gironde,
wine production in Saint-Émilion dates from
the 8th century,
when monks followed the
travelling confessor Émilion to
this destination.
Centuries of creation
and maturation followed.
Saint-Émilion became home to
perfumed, supple wines made
from Merlot and Cabernet Franc
varietals. These are now lauded
among the best in the world. Its
microclimate provides perfect
growing conditions - and
enhances the lifestyle for those
lucky enough to live in this
magical little town.
Balanced on an escarpment
above the River Dordogne,
Saint-Émilion is a rural gem. It
is tunnelled with wine cellars -
due to the limestone quarries
- is stunning in looks and is,
most famously, heady with
wine. This is one of the very
best areas of France to taste
WORDS: HELEN HOLBROOK | PHOTOS: DAWN GREGG, SHUTTERSTOCK & DEPOSITPHOTOS