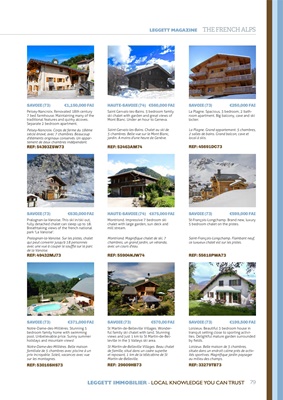 79
LEGGETT MAGAZINE THE FRENCH ALPS
LEGGETT IMMOBILIER - LOCAL KNOWLEDGE YOU CAN TRUST
SAVOIE (73) €1,150,000 FAI
Peisey-Nancroix. Renovated 18th century
7 bed farmhouse. Maintaining many of the
traditional features and quirky alcoves.
Separate 2 bedroom apartment.
Peisey-Nancroix. Corps de ferme du 18ème
siècle énové, avec 7 chambres. Beaucoup
d'éléments originaux conservés. Un appartement de deux chambres indépendant.
REF: 54393ZSW73
HAUTE-SAVOIE (74) €560,000 FAI
Saint Gervais-les-Bains. 5 bedroom family
ski chalet with garden and great views of
Mont Blanc. Under an hour to Geneva.
Saint-Gervais-les-Bains. Chalet au ski de
5 chambres. Belle vue sur le Mont Blanc,
jardin. A moins d'une heure de Genève.
REF: 52463AM74
SAVOIE (73) €250,000 FAI
La Plagne. Spacious, 3 bedroom, 2 bathroom
apartment. Big balcony, cave and ski
locker.
La Plagne. Grand appartement. 5 chambres,
2 salles de bains. Grand balcon, cave et
local à skis.
REF: 45691DC73
SAVOIE (73) €630,000 FAI
Pralognan-la-Vanoise. This ski in/ski out,
fully detached chalet can sleep up to 18.
Breathtaking views of the french national
park 'La Vanoise'.
Pralognan-la-Vanoise. Sur les pistes, chalet
qui peut convenir jusqu'à 18 personnes
avec une vue à couper le souffle sur le parc
de la Vanoise.
REF: 49432MJ73
HAUTE-SAVOIE (74) €875,000 FAI
Montriond. Impressive 7 bedroom ski
chalet with large garden, sun deck and
mill stream.
Montriond. Magnifique chalet de ski, 7
chambres, un grand jardin, un véranda,
avec un cours d'eau.
REF: 55904NJW74
SAVOIE (73) €599,000 FAI
St-François-Longchamp. Brand new, luxury
5 bedroom chalet on the pistes.
Saint-François-Longchamp. Flambant neuf,
ce luxueux chalet est sur les pistes.
REF: 55618PWA73
SAVOIE (73) €371,000 FAI
Notre-Dame-des-Millières. Stunning 5
bedroom family home with swimming
pool. Unbelievable price. Sunny summer
holidays and mountain views!
Notre-Dame-des-Millières. Belle maison
familiale de 5 chambres avec piscine à un
prix incroyable. Soleil, vacances avec vue
sur les montagnes.
REF: 53016SHS73
SAVOIE (73) €570,00 FAI
St Martin-de-Belleville Villages. Wonderful family
ski chalet with land. Stunning
views and just 1 km to St Martin-de-Belleville
in the 3 Valleys ski area.
St Martin-de-Belleville Villages. Beau chalet
de famille, situé dans un cadre superbe
et reposant, 1 km de la télécabine de St
Martin-de-Belleville.
REF: 29609HB73
SAVOIE (73) €199,500 FAI
Loisieux. Beautiful 3 bedroom house in
tranquil setting close to sporting activities. Delightful mature
garden surrounded
by fields.
Loisieux. Belle maison de 3 chambres,
située dans un endroit calme près de activités sportives. Magnifique jardin paysager
au milieu des champs.
REF: 33279TB73