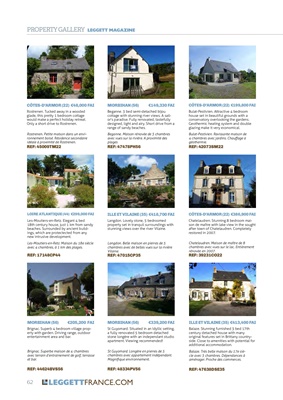 62
PROPERTY GALLERY LEGGETT MAGAZINE
CÔTES-D'ARMOR (22) €48,000 FAI
Rostrenen. Tucked away in a wooded
glade, this pretty 1 bedroom cottage
would make a perfect holiday retreat.
Only a short drive to Rostrenen.
Rostrenen. Petite maison dans un environnement boisé. Résidence secondaire
idéale à proximité de Rostrenen.
REF: 45009TM22
MORBIHAN (56) €149,330 FAI
Beganne. 3 bed semi-detached bijou
cottage with stunning river views. A sailor's paradise.
Fully renovated, tastefully
designed, light and airy. Short drive from a
range of sandy beaches.
Beganne. Maison rénovée de 3 chambres
avec vues sur la rivière. A proximité des
plages
REF: 47478PH56
CÔTES-D'ARMOR (22) €199,800 FAI
Bulat-Pestivien. Attractive 4 bedroom
house set in beautiful grounds with a
conservatory overlooking the gardens.
Geothermic heating system and double
glazing make it very economical.
Bulat-Pestivien. Ravissante maison de
4 chambres avec jardins. Chauffage à
géothermie.
REF: 42073SM22
LOIRE ATLANTIQUE (44) €299,000 FAI
Les-Moutiers-en-Retz. Elegant 4 bed
18th century house, just 1 km from sandy
beaches. Surrounded by ancient buildings, which are
protectected from any
new intrusive development.
Les-Moutiers-en-Retz. Maison du 18e siècle
avec 4 chambres, à 1 km des plages.
REF: 17148CP44
ILLE ET VILAINE (35) €418,700 FAI
Langdon. Lovely stone, 5 bedroomed
property set in tranquil surroundings with
stunning views over the river Vilaine.
Langdon. Belle maison en pierres de 5
chambres avec de belles vues sur la rivière
Vilaine.
REF: 47015CP35
CÔTES-D'ARMOR (22) €386,900 FAI
Chatelaudren. Stunning 8 bedroom maison de maître
with lake view in the sought
after town of Chatelaudren. Completely
restored in 2007.
Chatelaudren. Maison de maître de 8
chambres avec vues sur le lac. Entièrement
rénovée en 2007.
REF: 39231CO22
MORBIHAN (56) €205,200 FAI
Brignac. Superb 4 bedroom village property with garden.
Driving range, outdoor
entertainment area and bar.
Brignac. Superbe maison de 4 chambres
avec terrain d'entrainement de golf, terrasse
et bar.
REF: 44624BVS56
MORBIHAN (56) €339,200 FAI
St Guyomard. Situated in an Idyllic setting,
a fully renovated 5 bedroom detached
stone longère with an independant studio
apartment. Viewing recommended!
St Guyomard. Longère en pierres de 5
chambres avec appartement indépendant.
Magnifique environnement.
REF: 48334PV56
ILLE ET VILAINE (35) €413,400 FAI
Balaze. Stunning furnished 3 bed 17th
century detached house with many
original features set in Brittany countryside.
Close to amenities with potential for
additional accommodation.
Balaze. Très belle maison du 17e siècle avec 3 chambres. Dépendances à
aménager. Proche des commerces.
REF: 47638DSE35