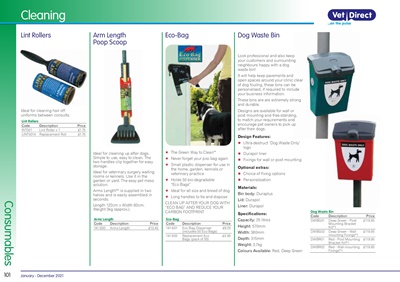 Consumables 101 January - December 2021
Cleaning
Lint Rollers
Ideal for cleaning hair off
uniforms between consults.
Lint Rollers
Code Description Price
INT001 Lint Roller x 1 £1.75
LINT001A Replacement Roll £1.75
Ideal for cleaning up after dogs.
Simple to use, easy to clean. The
two handles clip together for easy
storage.
Ideal for veterinary surgery waiting
rooms or kennels. Use it in the
garden or yard. The easy pet mess
solution.
Arms LengthTM is supplied in two
halves and is easily assembled in
seconds.
Length 122cm x Width 60cm.
Weight 3kg (approx.).
Eco-Bag
W The Green Way to Clean™
W Never forget your poo bag again
W Small plastic dispenser for use in
the home, garden, kennels or
veterinary practice
W Holds 50 bio-degradable
"Eco Bags"
W Ideal for all size and breed of dog
W Long handles to tie and dispose
CLEAN UP AFTER YOUR DOG WITH
"ECO BAG" AND REDUCE YOUR
CARBON FOOTPRINT
Arms Length
Code Description Price
141-600 Arms Length £13.45
Eco-Bag
Code Description Price
141-601 Eco Bag Dispenser
(includes 50 Eco Bags)
£9.25
141-602 Replacement Eco
Bags (pack of 50)
£3.95
Arm Length
Poop Scoop
Look professional and also keep
your customers and surrounding
neighbours happy with a dog
waste bin!
It will help keep pavements and
open spaces around your clinic clear
of dog fouling, these bins can be
personalised, if required to include
your business information.
These bins are are extremely strong
and durable.
Designs are available for wall or
post mounting and free-standing,
to match your requirements and
encourage pet owners to pick up
after their dogs.
Design Features:
X Ultra-destruct 'Dog Waste Only'
logo
X Durapol liner
X Fixings for wall or post mounting
Optional extras:
X Choice of fixing options
X Personalisation
Materials:
Bin body: Duraplus
Lid: Durapol
Liner: Durapol
Specifications:
Capacity: 25 litres
Height: 570mm
Width: 380mm
Depth: 315mm
Weight: 3.7kg
Colours Available: Red, Deep Green
Dog Waste Bin
Dog Waste Bin
Code Description Price
DWBG01 Deep Green - Post
Mounting Bracket
Kit*1
£119.95
DWBG02 Deep Green - Wall
mounting Fixings*1
£119.95
DWBR01 Red - Post Mounting
Bracket Kit*1
£119.95
DWBR02 Red - Wall mounting
Fixings*1
£119.95