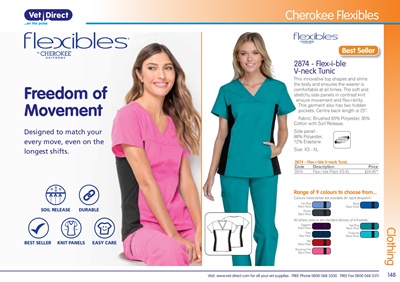 148
Visit: www.vet-direct.com for all your vet supplies FREE Phone 0800 068 3300 FREE Fax 0800 068 3311 Clothing
SOIL RELEASE DURABLE
EASY CARE
Freedom of
Movement
Designed to match your
every move, even on the
longest shifts.
KNIT PANELS
BEST SELLER
Cherokee Flexibles
2874 - Flex-i-ble
V-neck Tunic
This innovative top shapes and slims
the body and ensures the wearer is
comfortable at all times. The soft and
stretchy side panels in contrast knit
ensure movement and flex-i-bility.
This garment also has two hidden
pockets. Centre back length is 25".
Fabric: Brushed 65% Polyester, 35%
Cotton with Soil Release.
Side panel -
88% Polyester,
12% Elastane
Size: XS - XL
Best Seller
Range of 9 colours to choose from...
Colours listed below are available for rapid despatch.
Pewter
Black Panel
Royal
Black Panel
Teal Blue
Black Panel
Turquoise
Black Panel
Ciel Blue
Black Panel
Shocking Pink
Black Panel
Eggplant
Black Panel
Red
Black Panel
Navy
Navy Panel
All others colours are standard delivery of 4-8 weeks.
2874 - Flex-i-ble V-neck Tunic
Code Description Price
2874 Flex-i-ble Plain XS-XL £24.95*