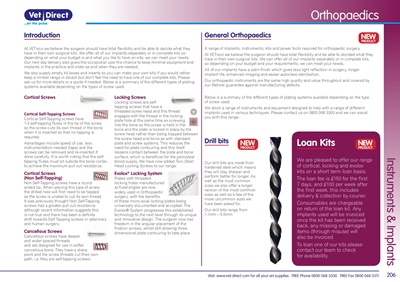 206
Visit: www.vet-direct.com for all your vet supplies FREE Phone 0800 068 3300 FREE Fax 0800 068 3311Instruments & Implants
Cortical Screws
Cortical Self-Tapping Screws
Cortical Self-Tapping screws have
1-3 self-tapping flutes in the tip of the screw
so the screw cuts its own thread in the bone
when it is inserted so that no tapping is
required.
Advantages include speed of use, less
instrumentation needed (taps) and the
screws can be removed and re-inserted if
done carefully. It is worth noting that the selftapping
flutes must sit outside the bone cortex
to achieve the maximum pull out resistance.
Cortical Screws
(Non Self-Tapping)
Non Self-Tapping screws have a round
ended tip. When placing this type of screw
the drilled hole will first need to be tapped
as the screw is unable to cut its own thread.
It was previously thought Non Self-Tapping
screws had a greater pull out resistance
although recent information suggests this
is not true and there has been a definite
shift towards Self Tapping screws in veterinary
and human surgery.
Cancellous Screws
Cancellous screws have deeper
and wider spaced threads
and are designed for use in softer
cancellous bone. They have a sharp
point and the screw threads cut their own
path, i.e. they are self-tapping screws.
Locking Screws
Locking screws are selftapping
screws that have a
threaded screw head and this thread
engages with the thread in the locking
plate hole at the same time as screwing
into the bone so the screw is held in the
bone and the plate is locked in place by the
screw head rather than being trapped between
the screw head and bone as with standard
plate and screw systems. This reduces the
need for plate contouring and this itself
lessens contact between the plate and bone
surface, which is beneficial for the periosteal
blood supply. We have now added Torx (Star)
Head Locking Screws to our range.
Evolox® Locking System
Plates with threaded
locking holes manufactured
at fixed angles are now
widely used in Orthopaedic
surgery, with the benefits
of these mono-axial locking plates being
universally documented and accepted. The
Evolox® System progresses this established
technology to the next level through its unique
and innovative design. The surgeon now has
freedom in the angular placement of the
fixation screws, whilst still allowing three
dimensional plate contouring to take place.
Orthopaedics
A range of implants, instruments, kits and power tools required for orthopaedic surgery.
At VETisco we believe the surgeon should have total flexibility and be able to decided what they
have in their own surgical kits. We can offer all of our implants separately or in complete kits,
so depending on your budget and your requirements, we can meet your needs.
All of our implants have a satin finish which gives less light reflection in surgery, longer
implant life, enhanced imaging and easier autoclave sterilisation.
Our orthopaedic instruments are the same high quality and value throughout and covered by
our lifetime guarantee against manufacturing defects.
Below is a summary of the different types of plating systems available depending on the type
of screw used.
We stock a range of instruments and equipment designed to help with a range of different
implants used in various techniques. Please contact us on 0800 068 3300 and we can assist
you with this range.
General Orthopaedics
Introduction
Drill bits Loan Kits
NEWPRODUCT
NEWPRODUCT NEWPRODUCT
Our drill bits are made from
hardened steel which means
they will stay sharper and
perform better for longer. As
well as the most common
sizes we also offer a longer
version of the most common
sizes as well as a few of the
more uncommon sizes we
have been asked for.
Our drill bits range from
1.1mm - 5.5mm
We are pleased to offer our range
of cortical, locking and evolox
kits on a short term loan basis.
The loan fee is £150 for the first
7 days, and £100 per week after
the first week, this includes
delivery & collection by courier.
Consumables are chargeable
on return of the loan kit. Any
implants used will be invoiced
once the kit has been received
back, any missing or damaged
items (through misuse) will
also be invoiced.
To loan one of our kits please
contact our team to check
for availability.
At VETisco we believe the surgeon should have total flexibility and be able to decide what they
have in their own surgical kits. We offer all of our implants separately or in complete kits so
depending on what your budget is and what you like to have on-site, we can meet your needs.
Our next day delivery also gives the occasional user the chance to keep minimal equipment and
implants in the practice and order as and when they are needed.
We also supply empty kit boxes and inserts so you can make your own kits if you would rather
keep a limited range in stoack but don't feel the need to have one of our complete kits. Please
ask us for more details or a quote if needed. Below is a summary of the different types of plating
systems available depending on the types of screw used.