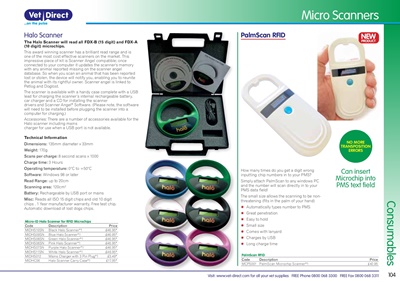 Consumables 104
Visit: www.vet-direct.com for all your vet supplies FREE Phone 0800 068 3300 FREE Fax 0800 068 3311
Micro Scanners
How many times do you get a digit wrong
inputting chip numbers in to your PMS?
Simply attach PalmScan to any windows PC
and the number will scan directly in to your
PMS data field!
The small size allows the scanning to be nonthreatening
(fits in the palm of your hand)
X Automatically types number to PMS
X Great penetration
X Easy to hold
X Small size
X Comes with lanyard
X Charges by USB
X Long charge time
NEWPRODUCT
Can insert
Microchip into
PMS text field
NO MORE
TRANSPOSITION
ERRORS
Technical Information
Dimensions: 135mm diameter x 33mm
Weight: 170g
Scans per charge: 8 second scans x 1000
Charge time: 3 Hours
Operating temperature: 0°C to +50°C
Software: Windows 98 or later
Read Range: up to 20cm
Scanning area: 120cm²
Battery: Rechargeable by USB port or mains
Misc: Reads all ISO 15 digit chips and old 10 digit
chips . 1 Year manufacturer warranty. Free test chip.
Automatic download of lost dogs chips.
Halo Scanner
The Halo Scanner will read all FDX-B (15 digit) and FDX-A
(10 digit) microchips.
This award winning scanner has a brilliant read range and is
one of the most cost effective scanners on the market. This
impressive piece of kit is Scanner Angel compatible; once
connected to your computer it updates the scanner's memory
with any animal reported missing on the scanner angel
database. So when you scan an animal that has been reported
lost or stolen, the device will notify you, enabling you to reunite
the animal with its rightful owner. Scanner angel is linked to
Petlog and Doglost.
The scanner is available with a handy case complete with a USB
lead for charging the scanner's internal rechargeable battery,
car charger and a CD for installing the scanner
drivers and Scanner Angel® Software. (Please note, the software
will need to be installed before plugging the scanner into a
computer for charging.)
Accessories: There are a number of accessories available for the
Halo scanner including mains
charger for use when a USB port is not available.
Micro-ID Halo Scanner for RFID Microchips
Code Description Price
MIDHS10SN Black Halo Scanner*1 £46.95*
MIDHS09SN Blue Halo Scanner*1 £46.95*
MIDHS08SN Green Halo Scanner*1 £46.95*
MIDHS06SN Pink Halo Scanner*1 £46.95*
MIDHS07SN Purple Halo Scanner*1 £46.95*
MIDHS11SN White Halo Scanner*1 £46.95*
MIDHS012 Mains Charger with 3 Pin Plug*1 £3.49*
MIDHC06 Halo Scanner Carry Case*1 £17.95*
PalmScan RFID
Code Description Price
MCPS001 PalmScan Microchip Scanner*1 £42.95
PalmScan RFID