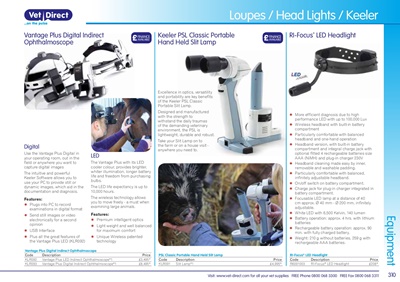 310
Visit: www.vet-direct.com for all your vet supplies FREE Phone 0800 068 3300 FREE Fax 0800 068 3311Equipment
Keeler PSL Classic Portable
Hand Held Slit Lamp
Excellence in optics, versatility
and portability are key benefits
of the Keeler PSL Classic
Portable Slit Lamp.
Designed and manufactured
with the strength to
withstand the daily traumas
of the demanding veterinary
environment, the PSL is
lightweight, durable and robust.
Take your Slit Lamp on to
the farm or on a house visit -
anywhere you need to.
£FINANCE
AVAILABLE
PSL Classic Portable Hand Held Slit Lamp
Code Description Price
KLR091 Slit Lamp*1 £4,995*
Loupes / Head Lights / Keeler
RI-Focus® LED Headlight
X More efficient diagnosis due to high
performance LED with up to 100,000 Lux
X Wireless headband with built-in battery
compartment
X Particularly comfortable with balanced
headband and one-hand operation
X Headband version, with built-in battery
compartment and integral charge jack with
optional fitted 4 rechargeable batteries size
AAA (NiMH) and plug-in charger 230V
X Headband cleaning made easy by inner,
removable and washable padding.
X Particularly comfortable with balanced,
infinitely adjustable headband.
X On/off switch on battery compartment.
X Charge jack for plug-in charger integrated in
battery compartment.
X Focusable LED lamp at a distance of 40
cm approx. Ø 40 mm - Ø 200 mm, infinitely
adjustable.
X White LED with 6,500 Kelvin, 140 lumen
X Battery operation: approx. 4 hrs. with lithium
batteries
X Rechargeable battery operation: approx. 90
min. with fully charged battery.
X Weight: 210 g without batteries, 259 g with
rechargeable AAA batteries.
Vantage Plus Digital Indirect
Ophthalmoscope
LED
The Vantage Plus with its LED
cooler colour, provides brighter,
whiter illumination, longer battery
life and freedom from purchasing
bulbs.
The LED life expectancy is up to
10,000 hours.
The wireless technology allows
you to move freely - a must when
examining large animals.
Features:
X Premium intelligent optics
X Light weight and well balanced
for maximum comfort
X Unique Wireless patented
technology
£FINANCE
AVAILABLE
Digital
Use the Vantage Plus Digital in
your operating room, out in the
field or anywhere you want to
capture digital images
The intuitive and powerful
Keeler Software allows you to
use your PC to provide still or
dynamic images, which aid in the
documentation and diagnosis.
Features:
X Plugs into PC to record
examinations in digital format
X Send still images or video
electronically for a second
opinion
X USB Interface
X Plus all the great features of
the Vantage Plus LED (KLR092)
RI-Focus® LED Headlight
Code Description Price
R6091003 RI-Focus® LED Headlight £208*
Vantage Plus Digital Indirect Ophthalmoscope
Code Description Price
KLR092 Vantage Plus LED Indirect Ophthalmoscope*1 £3,495*
KLR093 Vantage Plus Digital Indirect Ophthalmoscope*1 £8,495*