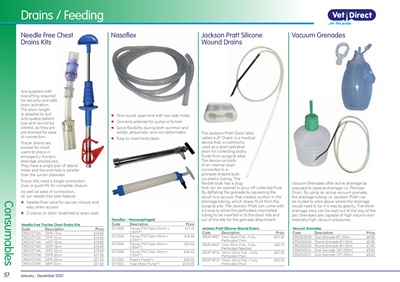 Consumables 57 January - December 2021
Drains / Feeding
Jackson Pratt Silicone
Wound Drains
Nasoflex
Nasoflex - Nasoesophageal
Code Description Price
ST-2000 Transp PVS Tube 9.5mm x
2.60m*1
£17.15
ST-2002 Transp PVS Tube 13mm x
2.70m*1
£18.95
ST-2004 Transp PVS Tube 16mm x
3.40m*1
£23.65
ST-2006 Transp PVS Tube 19mm x
3.00m*1
£28.50
ST-2020 Plastic Pump*1 £26.00
ST-7020 Tube Metal Pump*1 £124.95
X One round, open end with two side holes.
X One end widened for pump or funnel.
X Good flexibility during both summer and
winter, atraumatic and non-deformable.
X Easy to insert and clean.
Vacuum Grenades
Vacuum Grenades offer active drainage as
opposed to passive drainage i.e. Penrose
Drain. By using an active vacuum grenade,
the drainage tubing i.e. Jackson Pratt can
be routed to sites above where the drainage
would need to be if it was by gravity. Therefore
drainage sites can be kept out of the way of the
pet. Grenades are capable of high volume and
relatively high vacuum pressures.
Vacuum Grenades
Code Description Price
DRG020D06 Oval Grenade 6Fr 20ml £6.95
DRG050D06 Round Grenade 6Fr 50ml £6.95
DRG050D08 Round Grenade 8Fr 50ml £7.95
DRG250D10 Oval Grenade 10Fr 250ml £9.65
DRG250D12 Oval Grenade 12Fr 250ml £9.65
The Jackson-Pratt Drain (also
called a JP Drain) is a medical
device that is commonly
used as a post-operative
drain for collecting bodily
fluids from surgical sites.
The device consists
of an internal drain
connected to a
grenade-shaped bulb
via plastic tubing. The
flexible bulb has a plug
that can be opened to pour off collected fluid.
By deflating the grenade by squeezing the
result is a vacuum that creates suction in the
drainage tubing, which draws fluid from the
surgical site. The Jackson Pratt can come with
a trocar to allow the perforated channelled
tubing to be inserted in to the drain site and
out of the site for the grenade attachment.
Jackson Pratt Silicone Wound Drains
Code Description Price
DRJP-4P07 7mm 20cm Flat - Fully
Perforated Plain
£22.35
DRJP-4N07 7mm 20cm Flat - Fully
Perforated Needled
£32.75
DRJP-4P10 10mm 20cm Flat - Fully
Perforated Plain
£22.35
DRJP-4P13 13mm 20cm Flat - Fully
Perforated Plain
£25.25
Needle Free Chest
Drains Kits
Are supplied with
everything required
for security and safe
drain activation.
The drain length
is adapted to suit
anticipated patient
size and cannot be
altered, as they are
pre-bonded for ease
of connection.
Trocar drains are
easiest for most
users to place in
emergency thoracic
drainage procedures.
They have a single pair of lateral
holes and the end hole is smaller
than the lumen diameter.
Trocar kits need a single connection
(luer or push-fit) for complete closure.
As well as ease of connection,
all our needle-free sets feature:
X Needle-Free valve for secure closure and
easy drain access
X C-clamp on drain (matched to drain size)
Needle Free Trochar Chest Drains Kits
Code Description Price
DR2012T10K 10FR 17cm £19.89
DR2012T12K 12FR 16cm £19.89
DR2012T14K 14FR 16cm £19.89
DR2012T16K 16FR 18cm £19.89
DR2012T18K 18FR 32cm £19.89
DR2012T20K 20FR 32cm £21.69
DR2012T24K 24FR 32cm £21.69
DR2012T28K 28FR 32cm £21.69