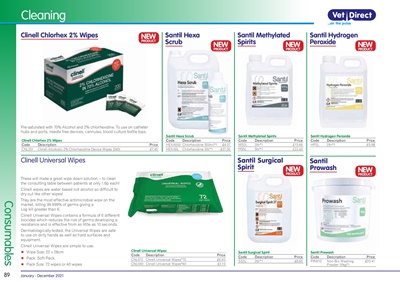 Consumables 89 January - December 2021
Cleaning
Santil Hexa
Scrub
Santil Surgical
Spirit
Santil Methylated
Spirits
Santil Hydrogen
Peroxide
Santil
Prowash
Santil Hexa Scrub
Code Description Price
HEXA500 Chlorhexidine 500ml*1 £4.07
HEXA5L Chlorhexidine 5ltr*1 £27.30
Santil Surgical Spirit
Code Description Price
SS2L 2ltr*1 £8.60
Santil Methylated Spirits
Code Description Price
MS2L 2ltr*1 £13.66
MS5L 5ltr*1 £22.63
Santil Hydrogen Peroxide
Code Description Price
HP2L 2ltr*1 £9.98
Santil Prowash
Code Description Price
PRW10 Non-Bio Washing
Powder 10kg*1
£20.41
NEWPRODUCT
NEWPRODUCT
NEWPRODUCT NEWPRODUCT
NEWPRODUCT
Clinell Chlorhex 2% Wipes
Code Description Price
CNL201 Clinell Alcoholic 2% Chlorhexidine Device Wipes (240) £7.45
Clinell Chlorhex 2% Wipes NEWPRODUCT
Pre-saturated with 70% Alcohol and 2% chlorhexidine. To use on catheter
hubs and ports, needle free devices, cannulas, blood culture bottle tops.
Clinell Universal Wipes
Clinell Universal Wipes
Code Description Price
CNL072 Clinell Universal Wipes*72 £6.65
CNL040 Clinell Universal Wipes*40 £3.10
These will make a great wipe down solution - to clean
the consulting table between patients at only 1.6p each!
Clinell wipes are water based not alcohol so difficult to
dry out like other wipes!
They are the most effective antimicrobial wipe on the
market, killing 99.999% of germs giving a
Log kill greater than 6.
Clinell Universal Wipes contains a formula of 6 different
biocides which reduces the risk of germs developing a
resistance and is effective from as little as 10 seconds.
Dermatologically tested, the Universal Wipes are safe
to use on dirty hands as well as hard surfaces and
equipment.
Clinell Universal Wipes are simple to use.
X Wipe Size: 22 x 28cm
X Pack: Soft Pack.
X Pack Size: 72 wipes or 40 wipes