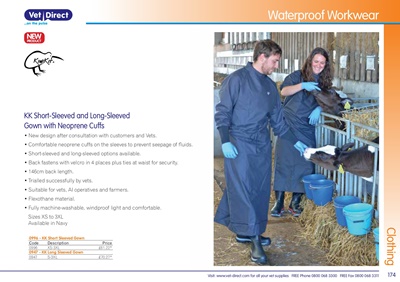 174
Visit: www.vet-direct.com for all your vet supplies FREE Phone 0800 068 3300 FREE Fax 0800 068 3311 Clothing
KK Short-Sleeved and Long-Sleeved
Gown with Neoprene Cuffs
• New design after consultation with customers and Vets.
• Comfortable neoprene cuffs on the sleeves to prevent seepage of fluids.
• Short-sleeved and long-sleeved options available.
• Back fastens with velcro in 4 places plus ties at waist for security.
• 146cm back length.
• Trialled successfully by vets.
• Suitable for vets, AI operatives and farmers.
• Flexothane material.
• Fully machine-washable, windproof light and comfortable.
Sizes XS to 3XL
Available in Navy
Waterproof Workwear
0996 - KK Short Sleeved Gown
Code Description Price
0996 XS-3XL £61.22*
0947 - KK Long Sleeved Gown
0947 S-3XL £70.27*
NEWPRODUCT