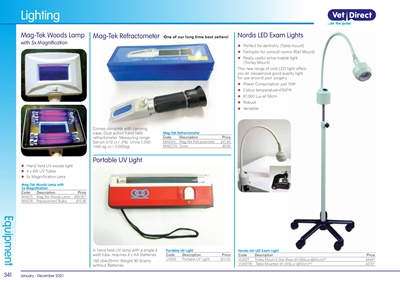 341Equipment January - December 2021
Lighting
Portable UV Light
Mag-Tek Woods Lamp
with 5x Magnification
One of our long time best sellers!
Comes complete with carrying
case, Dual action hand held
refractometer. Measuring range:
Serum 0-12 (+/- 2%). Urine 1,0001040
sg (+/- 0.002sg)
Mag-Tek Refractometer
A hand held UV lamp with a single 4
watt tube. requires 4 x AA Batteries
160 x54x25mm Weight 90 Grams
without Batteries
X Hand held UV woods light
X 4 x 4W UV Tubes
X 5x Magnification Lens
Mag-Tek Woods Lamp with
5x Magnification
Code Description Price
MAGT5 Mag-Tek Woods Lamp £89.95*
MAGT6 Replacement Bulbs £10.95
Mag-Tek Refractometer
Code Description Price
MAG010 Mag-Tek Refractometer £47.95
MAGCOV Cover £9.95
Portable UV Light
Code Description Price
UV500 Portable UV Light £12.50
Nordis LED Exam Lights
X Perfect for dentistry (Table mount)
X Fantastic for consult rooms (Rail Mount)
X Really useful extra mobile light
(Trolley Mount)
This new range of cold LED light offers
you an inexpensive good quality light
for use around your surgery.
X Power Consumption just 10W
X Colour temperature 4750ºK
X 61,000 Lux at 50cm
X Robust
X Versatile
Nordis Vet LED Exam Light
Code Description Price
VL002T Trolley Mount 5-Star Base (61,000Lux @50cm)*1 £449*
VL002TB Table Mounted (61,000Lux @50cm)*1 £375*