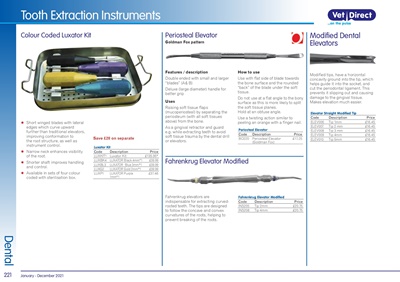 221Dental January - December 2021
Tooth Extraction Instruments
Colour Coded Luxator Kit
X Short winged blades with lateral
edges which curve upward
further than traditional elevators,
improving conformation to
the root structure, as well as
instrument control.
X Narrow neck enhances visibility
of the root.
X Shorter shaft improves handling
and control.
X Available in sets of four colour
coded with sterilisation box.
Save £20 on separate
Luxator Kit
Code Description Price
LUXKIT1 Luxator Kit £135.95*
LUXBK4 LUXATOR Black 4mm*1 £39.99
LUXBL3 LUXATOR Blue 3mm*1 £39.99
LUXG2 LUXATOR Gold 2mm*1 £39.99
LUXP1 LUXATOR Purple
1mm*1
£37.46
Modified tips, have a horizontal
concavity ground into the tip, which
helps guide it into the socket, and
cut the periodontal ligament. This
prevents it slipping out and causing
damage to the gingival tissue.
Makes elevation much easier.
Modified Dental
Elevators
Fahrenkrug Elevator Modified
Fahrenkrug elevators are
indispensable for extracting curvedrooted
teeth. The tips are designed
to follow the concave and convex
curvatures of the roots, helping to
prevent breaking of the roots.
Fahrenkrug Elevator Modified
Code Description Price
INS205 Tip 2mm £20.75
INS208 Tip 4mm £20.75
Elevator Straight Modified Tip
Code Description Price
ELEV006 Tip 1mm £16.45
ELEV007 Tip 2 mm £16.45
ELEV008 Tip 3 mm £16.45
ELEV009 Tip 4mm £16.45
ELEV010 Tip 5mm £16.45
Features / description
Double ended with small and larger
"blades" (A& B)
Deluxe (large diameter) handle for
better grip
Uses
Raising soft tissue flaps
(mucoperiosteal) by separating the
periosteum (with all soft tissues
above) from the bone.
As a gingival retractor and guard
e.g. while extracting teeth to avoid
soft tissue trauma by the dental drill
or elevators.
How to use
Use with flat side of blade towards
the bone surface and the rounded
"back" of the blade under the soft
tissue.
Do not use at a flat angle to the bony
surface as this is more likely to split
the soft tissue planes.
Hold at an obtuse angle.
Use a twisting action similar to
peeling an orange with a finger nail.
Periosteal Elevator
Code Description Price
BO220 Periosteal Elevator
(Goldman Fox)
£17.25
Periosteal Elevator
Goldman Fox pattern