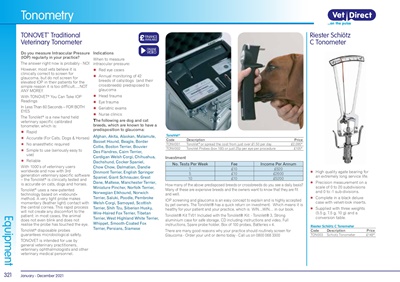 321Equipment January - December 2021
Tonometry
TONOVET® Traditional
Veterinary Tonometer
Investment
No. Tests Per Week Fee Income Per Annum
1 £10 £520
5 £10 £2600
10 £10 £5200
How many of the above predisposed breeds or crossbreeds do you see a daily basis?
Many of these are expensive breeds and the owners want to know that they are fit
and well.
IOP screening and glaucoma is an easy concept to explain and is highly accepted
by pet owners. The TonoVet® has a quick return on investment. Which means it is
healthy for your patient and your practice, which is WIN…WIN… in our book.
TonoVet® Kit TV01 Included with the TonoVet® Kit: - TonoVet® 3, Strong
aluminium case for safe storage, CD including instructions and video, Full
instructions, Spare probe holder, Box of 100 probes, Batteries x 4.
There are many good reasons why your practice should routinely screen for
Glaucoma - Order your unit or demo today - Call us on 0800 068 3300
Do you measure Intraocular Pressure
(IOP) regularly in your practice?
The answer right now is probably - NO!
However, most vets believe it is
clinically correct to screen for
glaucoma, but do not screen for
elevated IOP in their patients for the
simple reason it is too difficult.....NOT
ANY MORE!!
With TONOVET® You Can Take IOP
Readings
In Less Than 60 Seconds - FOR BOTH
EYES
The TonoVet® is a new hand held
veterinary specific calibrated
tonometer, which is:
X Rapid
W Accurate (For Cats, Dogs & Horses)
W No anaesthetic required
W Simple to use (seriously easy to
use)
W Reliable
With 1000's of veterinary users
worldwide and now with 3rd
generation veterinary specific software
- the TonoVet® is clinically tested and
is accurate on cats, dogs and horses.
TonoVet® uses a new-patented
technology based on «rebound»
method. A very light probe makes
momentary (feather light) contact with
the central cornea. This rapid process
will not create any discomfort to the
patient: in most cases, the animal
does not even blink and does not
realise the probe has touched the eye.
TonoVet® disposable probes
guarantees microbiological safety.
TONOVET is intended for use by
general veterinary practitioners,
veterinary ophthalmologists and other
veterinary medical personnel.
Indications
When to measure
intraocular pressure:
X Red eye cases
X Annual monitoring of 42
breeds of cats/dogs (and their
crossbreeds) predisposed to
glaucoma
X Head trauma
X Eye trauma
X Geriatric exams
X Nurse clinics
The following are dog and cat
breeds, which are known to have a
predisposition to glaucoma:
Afghan, Akita, Alaskan, Malamute,
Basset Hound, Beagle, Border
Collie, Boston Terrier, Bouvier
Des Flandres, Cairn Terrier,
Cardigan Welsh Corgi, Chihuahua,
Dachshund, Cocker Spaniel,
Chow Chow, Dalmatian, Dandie
Dinmont Terrier, English Springer
Spaniel, Giant Schnauzer, Great
Dane, Maltese, Manchester Terrier,
Miniature Pincher, Norfolk Terrier,
Norwegian Elkhound, Norwich
Terrier, Saluki, Poodle, Pembroke
Welsh Corgi, Samoyed, Scottish
Terrier, Shih Tzu, Siberian Husky,
Wire-Haired Fox Terrier, Tibetan
Terrier, West Highland White Terrier,
Whippet, Smooth-Coated Fox
Terrier, Persians, Siamese
£FINANCE
AVAILABLE
ONLINE
VIDEO
TonoVet®
Code Description Price
TONV001 TonoVet® or spread the cost from just over £1.50 per day £2,095*
TONV002 TonoVet Probes (box 100) or just 25p per eye per procedure £105*
Riester Schiötz
C Tonometer
W High quality agate bearing for
an extremely long service life.
W Precision measurement on a
scale of 0 to 20 subdivisions
and 0 to -1 sub-divisions.
W Complete in a black deluxe
case with velvet-look inserts.
W Supplied with three weights
(5.5 g, 7.5 g, 10 g) and a
conversion table.
Riester Schiötz C Tonometer
Code Description Price
TON003 Schiotz Tonometer £149*