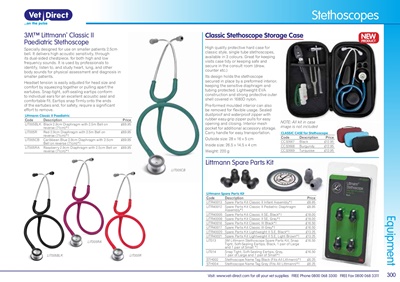 300
Visit: www.vet-direct.com for all your vet supplies FREE Phone 0800 068 3300 FREE Fax 0800 068 3311Equipment
Stethoscopes
Littmann Spare Parts Kit
Code Description Price
LITR40013 Spare Parts Kit Classic II Infant Assembly*1 £8.95
LITR40012 Spare Parts Kit Classic II Pediatric Diaphragm
Assembly*1
£8.95
LITR40005 Spare Parts Kit Classic II SE, Black*1 £18.00
LITR40006 Spare Parts Kit Classic II SE, Grey*1 £18.00
LITR40016 Spare Parts Kit Classic III Black*1 £16.50
LITR40017 Spare Parts Kit Classic III Grey*1 £16.50
LITR40020 Spare Parts Kit Lightweight II S.E, Black*1 £13.25
LITR40021 Spare Parts Kit Lightweight II S.E, Light Brown*1 £13.25
LIT013 3M Littmann Stethoscope Spare Parts Kit, Snap
Tight, Soft-Sealing Eartips, Black, 1 pair of Large
and 1 pair of Small *1
£16.50
LIT014 Snap Tight, Soft-Sealing Eartips, Grey,
1 pair of Large and 1 pair of Small*1
£16.50
STH002 Stethoscope Name Tag Black (Fits All Littmann)*1 £6.25
STH004 Stethoscope Name Tag Grey (Fits All Littmann)*1 £6.25
CLASSIC CASE for Stethoscope
Code Description Price
CC32667 Black £12.95
CC32668 Burgundy £12.95
CC32669 Turquoise £12.95
LIT005CB
3M™ Littmann® Classic II
Paediatric Stethoscope
Specially designed for use on smaller patients 2.5cm
bell. It delivers high acoustic sensitivity, through
its dual-sided chestpiece, for both high and low
frequency sounds. It is used by professionals to
identify, listen to, and study heart, lung, and other
body sounds for physical assessment and diagnosis in
smaller patients.
Headset tension is easily adjusted for head size and
comfort by squeezing together or pulling apart the
eartubes. Snap-tight, soft-sealing eartips conform
to individual ears for an excellent acoustic seal and
comfortable fit. Eartips snap firmly onto the ends
of the eartubes and, for safety, require a significant
effort to remove.
Littmann Classic II Paediatric
Code Description Price
LIT005BLK Black 2.9cm Diaphragm with 2.5m Bell on
reverse (71cm)*1
£69.95
LIT005R Red 2.9cm Diaphragm with 2.5m Bell on
reverse (71cm)*1
£69.95
LIT005CB Caribbean Blue 2.9cm Diaphragm with 2.5cm
Bell on reverse (71cm)*1
£69.95
LIT005RA Raspberry 2.9cm Diaphragm with 2.5cm Bell on
reverse (71cm)*1
£69.95
LIT005BLK
LIT005RA
LIT005R
Littmann Spare Parts Kit
NEWPRODUCT
Classic Stethoscope Storage Case
High quality protective hard case for
classic style, single tube stethoscopes,
available in 3 colours. Great for keeping
visits case tidy or keeping safe and
secure in the consult room (draw,
counter etc.)
Its design holds the stethoscope
secured in place by a preformed interior,
keeping the sensitive diaphragm and
tubing protected. Lightweight EVA
construction and strong protective outer
shell covered in 1680D nylon.
Pre-formed moulded interior can also
be removed for flexible usage. Sealed
dustproof and waterproof zipper with
rubber easy-grip zipper pulls for easy
opening and closing. Interior mesh
pocket for additional accessory storage.
Carry handle for easy transportation.
Outside size: 28 x 16 x 5 cm
Inside size: 26.5 x 14.5 x 4 cm
Weight: 220 g
NOTE: All kit in case
image is not included