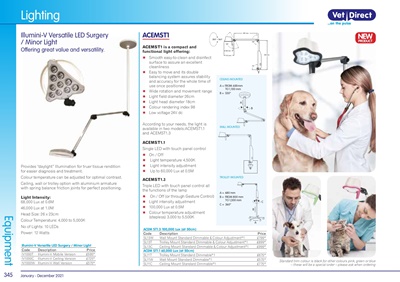 345Equipment January - December 2021
Lighting
Illumini-V Versatile LED Surgery / Minor Light
Code Description Price
IV1000T Illumini-V Mobile Version £595*
IV1000C Illumini-V Ceiling Version £725*
IV1000W Illumini-V Wall Version £575*
ACEM ST1.3 100,000 Lux (at 50cm)
Code Description Price
SL13W Wall Mount Standard Dimmable & Colour Adjustment*1 £799*
SL13T Trolley Mount Standard Dimmable & Colour Adjustment*1 £899*
SL13C Ceiling Mount Standard Dimmable & Colour Adjustment*1 £999*
ACEM ST1.1 60,000 Lux (at 50cm)
SL11T Trolley Mount Standard Dimmable*1 £675*
SL11W Wall Mount Standard Dimmable*1 £575*
SL11C Ceiling Mount Standard Dimmable*1 £775*
Provides "daylight" Illumination for truer tissue rendition
for easier diagnosis and treatment.
Colour temperature can be adjusted for optimal contrast.
Ceiling, wall or trolley option with aluminium armature
with spring balance friction joints for perfect positioning.
Light Intensity:
68,000 Lux at 0.6M
46,000 Lux at 1.0M
Head Size: 26 x 23cm
Colour Temperature: 4,000 to 5,000K
No of Lights: 10 LEDs
Power: 12 Watts
Illumini-V Versatile LED Surgery
/ Minor Light
Offering great value and versatility.
ACEMST1 is a compact and
functional light offering:
X Smooth easy-to-clean and disinfect
surface to assure an excellent
cleanliness
X Easy to move and its double
balancing system assures stability
and accuracy for the whole time of
use once positioned
X Wide rotation and movement range
X Light field diameter 26cm
X Light head diameter 18cm
X Colour rendering index 98
X Low voltage 24V dc
According to your needs, the light is
available in two models:ACEMST1.1
and ACEMST1.3
ACEMST1.1
Single LED with touch panel control
X On / Off
X Light temperature 4,500K
X Light intensity adjustment
X Up to 60,000 Lux at 0.5M
ACEMST1.3
Triple LED with touch panel control all
the functions of the lamp
X On / Off (or through Gesture Control)
X Light intensity adjustment
X 100,000 Lux at 0.5M
X Colour temperature adjustment
(stepless) 3,000 to 5,500K
ACEMST1
WALL MOUNTED
A = 680 mm
B = FROM 800 mm
TO 1,300 mm
C = 360°
TROLLEY MOUNTED
B
C
A
A = FROM 600 mm
TO 1,100 mm
B = 330°
CEILING MOUNTED
A
B
280° / 360°
180°
490 mm
590 mm
90°
215 mm
180 mm
180°
NEWPRODUCT
Standard trim colour is black for other colours pink, green or blue
- these will be a special order - please ask when ordering