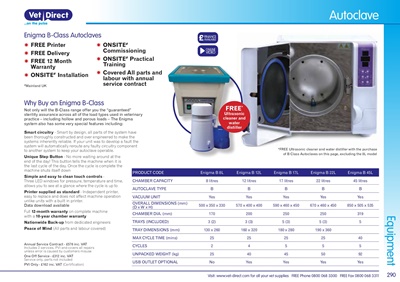 290
Visit: www.vet-direct.com for all your vet supplies FREE Phone 0800 068 3300 FREE Fax 0800 068 3311Equipment
Autoclave
X FREE Printer
X FREE Delivery
X FREE 12 Month
Warranty
X ONSITE# Installation
X ONSITE#
Commissioning
X ONSITE# Practical
Training
X Covered All parts and
labour with annual
service contract
Enigma B-Class Autoclaves
Smart circuitry - Smart by design, all parts of the system have
been thoroughly constructed and over engineered to make the
systems inherently reliable. If your unit was to develop a fault the
system will automatically reroute any faulty circuitry component
to another system to keep your autoclave operable.
Unique Step Button - No more waiting around at the
end of the day! This button tells the machine when it is
the last cycle of the day. Once the cycle is complete the
machine shuts itself down
Simple and easy to clean touch controls -
Three LED windows for pressure, temperature and time,
allows you to see at a glance where the cycle is up to
Printer supplied as standard - Independent printer,
easy to replace and does not affect machine operation
unlike units with a built in printer.
Data download available
Full 12-month warranty on complete machine
with a 10-year chamber warranty
Nationwide Back-up from dedicated engineers
Peace of Mind (All parts and labour covered)
#Mainland UK
*FREE Ultrasonic cleaner and water distiller with the purchase
of B Class Autoclaves on this page, excluding the 8L model
Annual Service Contract - £576 inc. VAT
Includes 2 services, PVI and covers all repairs
unless error is caused by customers misuse
One Off Service - £312 inc. VAT
Service only, parts not included
PVI Only - £162 inc. VAT (Certification)
Why Buy an Enigma B-Class
Not only will the B-Class range offer you the "guaranteed"
sterility assurance across all of the load types used in veterinary
practice - including hollow and porous loads - The Enigma
system also has some very special features including:
PRODUCT CODE Enigma B 8L Enigma B 12L Enigma B 17L Enigma B 22L Enigma B 45L
CHAMBER CAPACITY 8 litres 12 litres 17 litres 22 litres 45 litres
AUTOCLAVE TYPE B B B B B
VACUUM UNIT Yes Yes Yes Yes Yes
OVERALL DIMENSIONS (mm)
(D x W x H)
500 x 350 x 330 570 x 400 x 400 590 x 460 x 450 670 x 460 x 450 850 x 505 x 535
CHAMBER DIA. (mm) 170 200 250 250 319
TRAYS (INCLUDED) 3 (2) 3 (3) 5 (3) 5 (3) 5
TRAY DIMENSIONS (mm) 130 x 260 160 x 320 180 x 280 190 x 360
MAX CYCLE TIME (mins) 25 25 25 25 40
CYCLES 2 4 5 5 5
UNPACKED WEIGHT (kg) 25 40 45 50 92
USB OUTLET OPTIONAL No Yes Yes Yes Yes
FREE*
Ultrasonic
cleaner and
water
distiller
£FINANCE
AVAILABLE
ONLINE
VIDEO