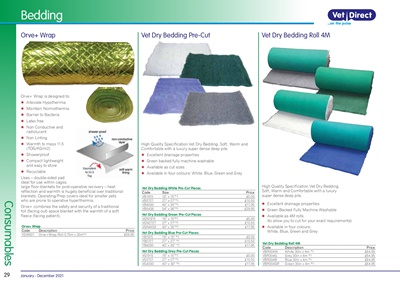 Consumables 29 January - December 2021
Bedding
High Quality Specification Vet Dry Bedding. Soft, Warm and
Comfortable with a luxury super dense deep pile.
X Excellent drainage properties
X Green backed fully machine washable
X Available as cut sizes
X Available in four colours: White, Blue, Green and Grey
Vet Dry Bedding Pre-Cut Vet Dry Bedding Roll 4M
Orve+ Wrap
High Quality Specification Vet Dry Bedding.
Soft, Warm and Comfortable with a luxury
super dense deep pile.
Orve+ Wrap is designed to:
X Alleviate Hypothermia
X Maintain Normothermia
X Barrier to Bacteria
X Latex free
X Non Conductive and
radiolucent
X Non Linting
X Warmth to mass 11.5
(TOG/KG/m2)
X Showerproof
X Compact lightweight
and easy to store
X Recyclable
Uses - double-sided pad
ideal for use within cages,
large floor blankets for post-operative recovery - heat
reflection and warmth is hugely beneficial over traditional
blankets. Operating/Prep covers ideal for smaller pets
who are prone to operative hyperthermia.
Orve+ combines the safety and security of a traditional
foil (facing out) space blanket with the warmth of a soft
fleece (facing patient).
X Excellent drainage properties
X Green Backed Fully Machine Washable
X Available as 4M rolls
(to allow you to cut for your exact requirements)
X Available in four colours:
White, Blue, Green and Grey
Vet Dry Bedding Roll 4M
Code Description Price
VBR304W White 30in x 4m *1 £64.95
VBR304G Grey 30in x 4m *1 £64.95
VBR304B Blue 30in x 4m *1 £64.95
VBR304GR Green 30in x 4m *1 £64.95
Orve+ Wrap
Code Description Price
VSW007 Orve+Wrap Roll 0.75m x 30m*1 £59.95
Vet Dry Bedding White Pre-Cut Pieces
Code Size Price
VB1915 19" x 15"*1 £5.00
VB2727 27" x 27"*1 £10.50
VB4030 40" x 30"*1 £17.95
VB5436 54" x 36"*1 £29.95
Vet Dry Bedding Green Pre-Cut Pieces
VGN1915 19" x 15"*1 £5.00
VGN2727 27" x 27"*1 £10.50
VGN4030 40" x 30"*1 £17.95
Vet Dry Bedding Blue Pre-Cut Pieces
YB1915 19" x 15" *1 £5.00
YB2727 27" x 27" *1 £10.50
YB4030 40" x 30" *1 £17.95
Vet Dry Bedding Grey Pre-Cut Pieces
VG1915 19" x 15"*1 £5.00
VG2727 27" x 27"*1 £10.50
VG4030 40" x 30" *1 £17.95