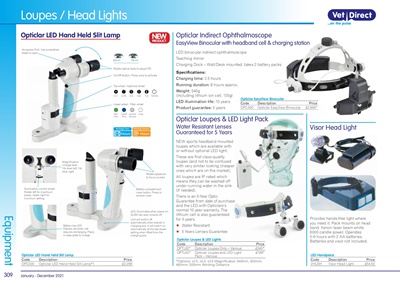 309Equipment January - December 2021
Loupes / Head Lights
Opticlar Loupes & LED Light Pack
Water Resistant Lenses
Guaranteed for 5 Years
NEW sports headband mounted
loupes which are available with
or without optional LED light.
These are first class quality
loupes (and not to be confused
with very similar looking cheaper
ones which are on the market).
All loupes are IP rated which
means they can be washed off
under running water in the sink
(if needed).
There is an 5-Year Optic
Guarantee from date of purchase
and the LED with Opticlars's
normal 10 year warranty. The
lithium cell is also guaranteed
for 5 years.
X Water Resistant
X 5 Years Lenses Guarantee
Opticlar Indirect Ophthalmoscope
EasyView Binocular with headband cell & charging stationVisor Head Light
Provides hands-free light where
you need it. Pack mounts on head
band. Xenon laser beam emits
6000 candle power. Operates
5-6 hours with 2 AA batteries.
Batteries and visor not included.
LED binocular indirect ophthalmoscope
Teaching mirror
Charging Dock - Wall/Desk mounted, takes 2 battery packs
Specifications:
Charging time: 2.5 hours
Running duration: 8 hours approx.
Weight: 540g
(including lithium ion cell, 120g)
LED illumination life: 10 years
Product guarantee: 5 years
LED Handpeice
Code Description Price
VHL001 Visor Head Light £54.50
Opticlar EasyView Binocular
Code Description Price
OPC300 Opticlar EasyView Binocular £2,999*
Opticlar Loupes & LED Lights
Code Description Price
OPTL00* Opticlar Loupes Only - Various £345*
OPTL02* Opticlar Loupes and LED Light
Pack - Various
£799*
*Options: x2.5, x3.0, x3.5 Magnification 340mm, 420mm,
460mm, 500mm Working Distance
NEWPRODUCT
Opticlar LED Hand Held Slit Lamp
Opticlar LED Hand Held Slit Lamp
Code Description Price
OPC500 Opticlar LED Hand Held Slit Lamp*1 £2,299
Rotate optical body to adjust PD
On/Off Button. Press once to activate
Top wheel - Aperture wheel
1 x 1 0.15 0.5 0.8 1.6 12mm
Lower wheel - Filter wheel
50mm 78mm
Red
Free
Cobalt
Blue
Neutral
Density
Clear
Accessory Port. Use screwdriver
blade to open
Magnifi cation
change lever.
16x lever left, 10x
lever right
Illumination control wheel.
Rotate left for maximum
power, rotate right for
minimum setting.
Battery low LED.
Flashes red when cell
requires recharging. Place
in base plate to charge.
LED, illuminates when power on.
SL280 has auto on/auto off.
Unit will switch off
automatically when placed in
charging pod. It will switch on
automatically at the last power
setting when lifted from the
charging pod.
Rotate eyepieces
to focus oculars
Battery compartment
cover button. Press to
remove cover