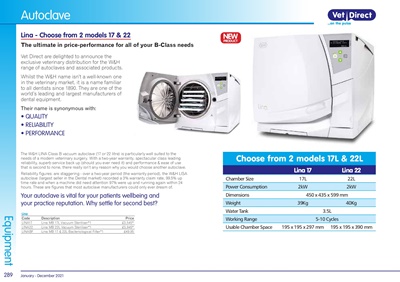 289Equipment January - December 2021
Autoclave
Lina - Choose from 2 models 17 & 22
Choose from 2 models 17L & 22L
Lina 17 Lina 22
Chamber Size 17L 22L
Power Consumption 2kW 2kW
Dimensions 450 x 435 x 599 mm
Weight 39Kg 40Kg
Water Tank 3.5L
Working Range 5-10 Cycles
Usable Chamber Space 195 x 195 x 297 mm 195 x 195 x 390 mm
The ultimate in price-performance for all of your B-Class needs
The W&H LINA Class B vacuum autoclave (17 or 22 litre) is particularly well suited to the
needs of a modern veterinary surgery. With a two-year warranty, spectacular class leading
reliability, superb service back up (should you ever need it) and performance & ease of use
that is second to none, there really isn't any reason why you would choose another autoclave.
Reliability figures: are staggering - over a two-year period (the warranty period), the W&H LISA
autoclave (largest seller in the Dental market) recorded a 3% warranty claim rate, 99.5% up
time rate and when a machine did need attention 97% were up and running again within 24
hours. These are figures that most autoclave manufacturers could only ever dream of.
Your autoclave is vital for your patients wellbeing and
your practice reputation. Why settle for second best?
Vet Direct are delighted to announce the
exclusive veterinary distribution for the W&H
range of autoclaves and associated products.
Whilst the W&H name isn't a well-known one
in the veterinary market, it is a name familiar
to all dentists since 1890. They are one of the
world's leading and largest manufacturers of
dental equipment.
Their name is synonymous with:
• QUALITY
• RELIABILITY
• PERFORMANCE
Lina
Code Description Price
LINA17 Lina MB 17L Vacuum Steriliser*1 £3,545*
LINA22 Lina MB 22L Vacuum Steriliser*1 £3,945*
LINABF Lina MB 17 & 22L Bacteriological Filter*1 £49.95
NEWPRODUCT