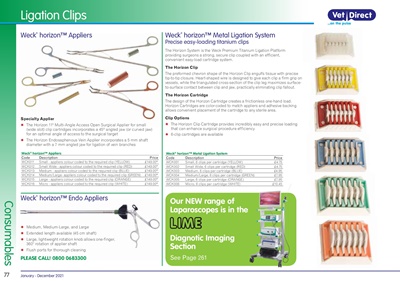 Consumables 77 January - December 2021
Ligation Clips
Our NEW range of
Laparoscopes is in the
LIME
Diagnotic Imaging
Section
See Page 261
Weck® horizon™ Metal Ligation System
Code Description Price
WCK001 Small, 6 clips per cartridge (YELLOW) £4.75
WCK002 Small Wide, 6 clips per cartridge (RED) £4.75
WCK003 Medium, 6 clips per cartridge (BLUE) £4.95
WCK004 Medium/Large, 6 clips per cartridge (GREEN) £7.95
WCK005 Large, 6 clips per cartridge (ORANGE) £7.95
WCK006 Micro, 6 clips per cartridge (WHITE) £10.45
Weck® horizon™ Appliers
Code Description Price
WCK011 Small - appliers colour coded to the required clip (YELLOW) £149.00*
WCK012 Small Wide - appliers colour coded to the required clip (RED) £149.00*
WCK013 Medium - appliers colour coded to the required clip (BLUE) £149.00*
WCK014 Medium/Large- appliers colour coded to the required clip (GREEN) £149.00*
WCK015 Large - appliers colour coded to the required clip (ORANGE) £149.00*
WCK016 Micro - appliers colour coded to the required clip (WHITE) £149.00*
Weck® horizon™ Metal Ligation System
Precise easy-loading titanium clips
Weck® horizon™ Appliers
Weck® horizon™ Endo Appliers
The Horizon System is the Weck Premium Titanium Ligation Platform
providing surgeons a strong, secure clip coupled with an efficient,
convenient easy-load cartridge system.
The Horizon Clip
The preformed chevron shape of the Horizon Clip engulfs tissue with precise
tip-to-tip closure. Heart-shaped wire is designed to give each clip a firm grip on
vessels, while the triangulated cross-section of the clip leg maximizes surfaceto-surface
contact between clip and jaw, practically eliminating clip fallout.
The Horizon Cartridge
The design of the Horizon Cartridge creates a frictionless one-hand load.
Horizon Cartridges are color-coded to match appliers and adhesive backing
allows convenient placement of the cartridge to any sterile area.
Clip Options
X The Horizon Clip Cartridge provides incredibly easy and precise loading
that can enhance surgical procedure efficiency
X 6-clip cartridges are available
Specialty Applier
X The Horizon 11" Multi-Angle Access Open Surgical Applier for small
(wide slot) clip cartridges incorporates a 45º angled jaw (or curved jaw)
for an optimal angle of access to the surgical target
X The Horizon Endosaphenous Vein Applier incorporates a 5 mm shaft
diameter with a 7 mm angled jaw for ligation of vein branches
X Medium, Medium-Large, and Large
X Extended length available (45 cm shaft)
X Large, lightweight rotation knob allows one-finger,
360° rotation of applier shaft
X Flush ports for thorough cleaning
PLEASE CALL! 0800 0683300