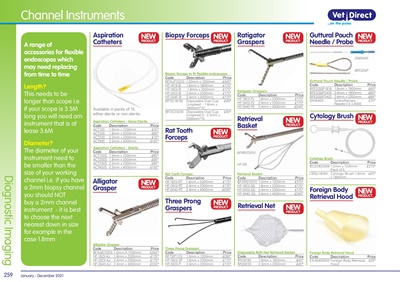 259Diagnostic Imaging January - December 2021
Channel Instruments
Aspiration
Catheters
Biopsy Forceps
Rat Tooth
Forceps
Guttural Pouch
Needle / Probe
NEWPRODUCT NEWPRODUCT
NEWPRODUCT
NEWPRODUCT
NEWPRODUCT
NEWPRODUCT
NEWPRODUCT
NEWPRODUCT
Biopsy forceps to fit flexible endoscopes
Code Description Price
BFXUF12010 1.00mm x 1200mm £345*
HF-1818-B 1.8mm x 1800mm £175*
HF-1823-B 1.8mm x 2300mm £175*
HF-2423-B 2.4mm x 2300mm £175*
HF-2440-B 2.4mm x 4000mm £175*
BFOC18180 Disposable Oval Cup
Unspiked - 1.8mm x
1800mm*10
£90*
BFOC23230 Disposable Oval Cup
Unspiked D - 2.3mm x
2300mm*10
£90*
Rat Tooth Forceps
Code Description Price
HF-1823-RT 1.8mm x 2300mm £175*
HF-2423-RT 2.4mm x 2300mm £175*
HF-2440-RT 2.4mm x 4000mm £200*
A range of
accessories for flexible
endoscopes which
may need replacing
from time to time
Length?
This needs to be
longer than scope i.e.
if your scope is 3.5M
long you will need am
instrument that is at
lease 3.6M
Diameter?
The diameter of your
instrument need to
be smaller than the
size of your working
channel i.e. if you have
a 2mm biopsy channel
you should NOT
buy a 2mm channel
instrument - it is best
to choose the next
nearest down in size
for example in the
case 1.8mm
Available in packs of 10,
either sterile or non-sterile.
Alligator
Grasper
Ratigator
Graspers
Retrieval
Basket
Three Prong
Graspers Retrieval Net
Cytology Brush
Foreign Body
Retrieval Hood
Ratigator Graspers
Code Description Price
HF-1823-PJ 1.8mm x 2300mm £175*
HF-2423-PJ 2.4mm x 2300mm £175*
HF-2440-PJ 2.4mm x 4000mm £240*
Three Prong Graspers
Code Description Price
BFT3P1120 1.0mm x 1200mm £280*
HF-1823-3P 1.8mm x 2300mm £175*
HF-2423-P 2.4mm x 2300mm £175*
Disposable Roth Net Retrieval Basket
Code Description Price
RN18180 1.8mm x 1800mm £40*
RN24230 2.3mm x 2300mm £40*
Cytology Brush
Code Description Price
BC203D2006 1.2mm x 1200mm
Pack of 5
£275*
CBSU18180 Cytology Brush 1.8mm
x 1800mm
£20*
Foreign Body Retrieval Hood
Code Description Price
EAA0420000 Foreign Body Retrieval
Hood
£25*
SN25400
BFESSGP
BFXRG12010
HF-SG
NEWPRODUCT
NEWPRODUCT
NEWPRODUCT
Aspiration Catheters - None Sterile
Code Description Price
ACT120 1.0mm x 1200mm £75*
ACT200 1.8mm x 2000mm £65*
ACT230 2.3mm x 2300mm £70*
ACT400 2.3mm x 4000mm £145*
Guttural Pouch Needle / Probe
Code Description Price
BFESSGP1818 1.8mm x 1800mm £60*
BFESSGP2418 2.4mm x 1800mm £60*
BFESSGP2422 2.4mm x 2250mm £60*
SN25400 Sclerotherapy
Needle 2.5 x 4000
£70*
Alligator Grasper
Code Description Price
BFXAG12010 1.0mm X 1200mm £345*
HF-1823-AJ 1.8mm x 2300mm £175*
HF-2323-AJ 2.4mm x 2300mm £175*
HF-2440-AJ 2.4mm x 4000mm £230*
Aspiration Catheters - Sterile
Code Description Price
ACT120S 1.0mm x 1200mm £85*
ACT200S 1.8mm x 2000mm £85*
ACT230S 2.3mm x 2300mm £85*
ACT400S 2.3mm x 4000mm £155*
Retrieval Basket
Code Description Price
BFXRG12010 1.0mm x 1200mm £375*
HF-1823-SG 1.8mm x 2300mm £175*
HF-2423-SG 2.4mm x 2300mm £175*
HF-2440-SG 2.4mm x 4000mm £240*