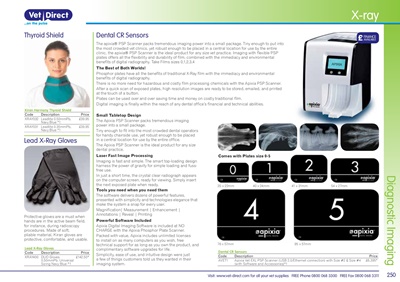 250
Visit: www.vet-direct.com for all your vet supplies FREE Phone 0800 068 3300 FREE Fax 0800 068 3311Diagnostic Imaging
X-ray
Dental CR Sensors
The apixia® PSP Scanner packs tremendous imaging power into a small package. Tiny enough to put into
the most crowded vet clinics, yet robust enough to be placed in a central location for use by the entire
clinic, the apixia® PSP Scanner is the ideal product for any size vet practice. Imaging with flexible PSP
plates offers all the flexibility and durability of film, combined with the immediacy and environmental
benefits of digital radiography. Take Films sizes 0,1,2,3,4
The Best of Both Worlds!
Phosphor plates have all the benefits of traditional X-Ray film with the immediacy and environmental
benefits of digital radiography.
There is no more need for hazardous and costly film processing chemicals with the Apixia PSP Scanner.
After a quick scan of exposed plates, high resolution images are ready to be stored, emailed, and printed
at the touch of a button.
Plates can be used over and over saving time and money on costly traditional film.
Digital imaging is finally within the reach of any dental office's financial and technical abilities.
Dental CR Sensors
Code Description Price
AVET1 Apixia Vet EXL PSP Scanner (USB 2.0/Ethernet connection) with Size #2 & Size #4
(with Software and Accessories)*1
£6,395*
Small Tabletop Design
The Apixia PSP Scanner packs tremendous imaging
power into a small package.
Tiny enough to fit into the most crowded dental operators
for handy chairside use, yet robust enough to be placed
in a central location for use by the entire office.
The Apixia PSP Scanner is the ideal product for any size
dental practice.
Laser Fast Image Processing
Imaging is fast and simple. The smart top-loading design
harness the power of gravity for simple loading and fussfree
use.
In just a short time, the crystal clear radiograph appears
on the computer screen, ready for viewing. Simply insert
the next exposed plate when ready.
Tools you need when you need them
The software delivers dozens of powerful features,
presented with simplicity and technologies elegance that
make the system a snap for every user.
Magnification| Measurement | Enhancement |
Annotations | Reveal | Printing
Powerful Software Included
Apixia Digital Imaging Software is included at NO
CHARGE with the Apixia Phosphor Plate Scanner.
Packed with value, Apixia includes unlimited licenses
to install on as many computers as you wish, free
technical support for as long as you own the product, and
complimentary software upgrades for life.
Simplicity, ease of use, and intuitive design were just
a few of things customers told us they wanted in their
imaging system.
£FINANCE
AVAILABLE
Lead X-Ray Gloves
Thyroid Shield
Lead X-Ray Gloves
Code Description Price
XRAY400 DUO Gloves
0.50mmPb. Universal
Sizing Navy Blue *1
£142.50*
Kiran Harmony Thyroid Shield
Code Description Price
XRAY032 Leadlite 0.50mmPb,
Navy Blue *1
£39.95
XRAY031 Leadlite 0.35mmPb,
Navy Blue *1
£39.95
Protective gloves are a must when
hands are in the active beam field,
for instance, during radioscopy
procedures. Made of soft,
pliable material, Kiran gloves are
protective, comfortable, and usable.
Comes with Plates size 0-5
35 x 22mm
76 x 57mm
40 x 24mm 41 x 31mm
95 x 57mm
54 x 27mm