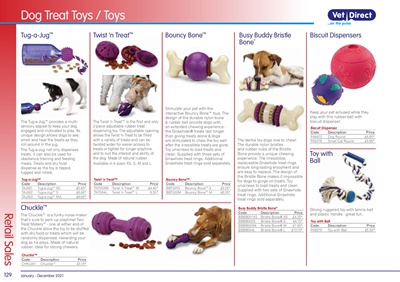 129Retail Sales January - December 2021
Dog Treat Toys / Toys
The Tug-a-Jug™ provides a multisensory
appeal to keep your dog
engaged and motivated to play. Its
unique design allows dogs to see,
smell and hear the treats as they
roll around in the jug.
The Tug-a-Jug not only dispenses
treats, it can also be used for
obedience training and feeding
meals. Treats and dry food
dispense as the toy is tipped,
tugged and rolled.
Stimulate your pet with the
interactive Bouncy Bone™ toys. The
design of the durable nylon bone
& rubber ball provide dogs with
an extended chewing experience -
the Gnawhide® treats last longer
than giving treats alone & dogs
are stimulated to chew the toy well
after the irresistible treats are gone.
Toy unscrews to load treats and
clean. Supplied with three sets of
Gnawhide treat rings. Additional
Gnawhide treat rings sold separately.
The Twist 'n Treat™ is the first and only
2-piece adjustable rubber treat
dispensing toy. The adjustable opening
allows the Twist 'n Treat to be filled
with a variety of treats and can be
twisted wider for easier access to
treats or tighter for longer playtime
and to suit the interest and ability of
the dog. Made of natural rubber.
Available in 4 sizes: XS, S, M and L.
The dental toy dogs love to chew!
The durable nylon bristles
and rubber nubs of the Bristle
Bone provide a unique chewing
experience. The irresistible,
replaceable Gnawhide treat rings
ensure long-lasting enjoyment and
are easy to replace. The design of
the Bristle Bone makes it impossible
for dogs to gorge on treats. Toy
unscrews to load treats and clean.
Supplied with two sets of Gnawhide
treat rings. Additional Gnawhide
treat rings sold separately.
The Chuckle™ is a funky noise-maker
that's sure to perk up playtime! Two
Treat Meters™ - one at either end of
the Chuckle allow the toy to be stuffed
with dry food or treats which will be
randomly dispensed, rewarding your
dog as he plays. Made of natural
rubber. Ideal for strong chewers.
Tug-a-Jug™ Bouncy Bone™
Twist 'n Treat™ Busy Buddy Bristle
Bone®
Chuckle™
Chuckle™
Code Description Price
CHKL001 Chuckle™ £5.15*
Tug-a-Jug™
Code Description Price
TAJ001 Tug-a-Jug™ XS £5.65*
TAJ002 Tug-a-Jug™ S £6.85*
TAJ003 Tug-a-Jug™ M/L £9.65*
Twist 'n Treat™
Code Description Price
TNT003M Twist 'n Treat™ M £4.45*
TNT004L Twist 'n Treat™ L 6.35*
Bouncy Bone™
Code Description Price
BBT001S Bouncy Bone™ S £3.25*
BBT002M Bouncy Bone™ M £6.25*
Busy Buddy Bristle Bone®
Code Description Price
BBBB001XS Bristle Bone® XS £4.25*
BBBB002S Bristle Bone® S £4.75*
BBBB003M Bristle Bone® M £7.95*
BBBB004L Bristle Bone® L £12.15*
Toy with
Ball
Biscuit Dispensers
Keep your pet amused while they
play with this rubber ball with
biscuit dispenser.
Strong ruggered toy with tennis ball
and plastic handle - great fun.
Biscuit Dispenser
Code Description Price
PA6472 Dog Round £6.60*
PA5216 Small Cat Round £3.95*
Toy with Ball
Code Description Price
PA6519 Toy with Ball £5.39*