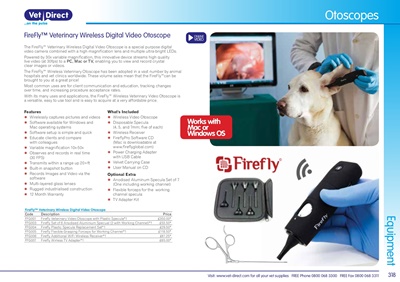 318
Visit: www.vet-direct.com for all your vet supplies FREE Phone 0800 068 3300 FREE Fax 0800 068 3311Equipment
Otoscopes
FireFly™ Veterinary Wireless Digital Video Otoscope ONLINE
VIDEO
Features
X Wirelessly captures pictures and videos
X Software available for Windows and
Mac operating systems
X Software setup is simple and quick
X Educate clients and compare
with colleagues
X Variable magnification 10x-50x
X Observes and records in real time
(30 FPS)
X Transmits within a range up 20+ft
X Built-in snapshot button
X Records Images and Video via the
software
X Multi-layered glass lenses
X Rugged industrialised construction
X 12 Month Warranty
What's Included
X Wireless Video Otoscope
X Disposable Specula
(4, 5, and 7mm; five of each)
X Wireless Receiver
X FireflyPro Software CD
(Mac is downloadable at
X Power Charging Adapter
with USB Cable
X Velvet Carrying Case
X User Manual on CD
Optional Extra
X Anodised Aluminum Specula Set of 7
(One including working channel)
X Flexible forceps for the working
channel specula
X TV Adapter Kit
The FireFly™ Veterinary Wireless Digital Video Otoscope is a special purpose digital
video camera combined with a high magnification lens and multiple ultra-bright LEDs.
Powered by 30x variable magnification, this innovative device streams high quality
live video (at 30fps) to a PC, Mac or TV, enabling you to view and record crystal
clear images or videos.
The FireFly™ Wireless Veterinary Otoscope has been adopted in a vast number by animal
hospitals and vet clinics worldwide. These volume sales mean that the FireFly™can be
brought to you at a great price!
Most common uses are for client communication and education, tracking changes
over time, and increasing procedure acceptance rates.
With its many uses and applications, the FireFly™ Wireless Veterinary Video Otoscope is
a versatile, easy to use tool and is easy to acquire at a very affordable price.
Works with
Mac or
Windows OS
FireFly™ Veterinary Wireless Digital Video Otoscope
Code Description Price
FFG001 Firefly Veterinary Video Otoscope with Plastic Specula*1 £350.00*
FFG003 Firefly Set of 6 Anodised Aluminium Specual (2 with Working Channel)*1 £53.50*
FFG004 Firefly Plastic Specula Replacement Set*1 £29.50*
FFG005 Firefly Flexible Grasping Forceps for Working Channel*1 £118.50*
FFG006 Firefly Additional WiFi Wireless Receiver*1 £61.25*
FFG007 Firefly Wirless TV Adapter*1 £85.00*