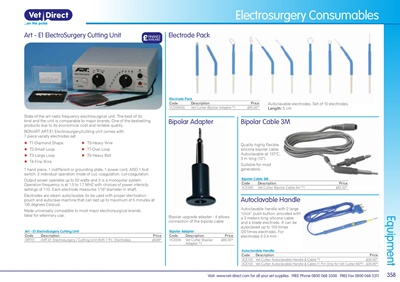 358
Visit: www.vet-direct.com for all your vet supplies FREE Phone 0800 068 3300 FREE Fax 0800 068 3311Equipment
Electrosurgery Consumables
Autoclavable handle with 2 large
"click" push-button, provided with
a 3 meters long silicone cable
and a blade electrode. It can be
autoclaved up to 100 times
(20 times electrode). For
electrodes 0 2.4 mm
Bipolar upgrade adapter - it allows
connection of the bipolar cable
Quality highly flexible
silicone bipolar cable.
Autoclavable at 137°C,
3 m long (10").
Suitable for most
generators.
Autoclavable electrodes. Set of 10 electrodes.
Length: 5 cm
Autoclavable Handle
Bipolar Adapter Bipolar Cable 3M
Electrode Pack
Autoclavable Handle
Code Description Price
VCE102 Vet Cutter Autoclavable Handle & Cable *1 £39.95*
VCE103 Vet Cutter Autoclavable Handle & Cable (1 Pin Only for Vet Cutter 80)*1 £39.95*
Electrode Pack
Code Description Price
VCE00500 Vet Cutter Bipolar Adaptor *1 £65.00*
Bipolar Adapter
Code Description Price
VCE004 Vet Cutter Bipolar
Adaptor *1
£65.00*
Bipolar Cable 3M
Code Description Price
VCE005 Vet Cutter Bipolar Cable 3m *1 £82.50*
Art - E1 ElectroSurgery Cutting Unit
State-of-the art radio frequency electrosurgical unit. The best of its
kind and the unit is comparable to major brands. One of the bestselling
products due to its economical cost and reliable quality.
BONART ART-E1 Electrosurgery/cutting unit comes with
7 piece variety electrodes set
1 hand piece, 1 indifferent or grounding plate, 1 power cord, AND 1 foot
switch. 3 individual operation mode of cut, coagulation, cut-coagulation.
Output power operates up to 50 watts and it is a monopolar system.
Operation frequency is at 1.5 to 1.7 MHZ with choices of power intensity
settings of 1-10. Each electrode measures 1/16" diameter in shaft.
Electrodes are steam autoclavable (to be used with proper sterilization
pouch and autoclave machine that can last up to maximum of 5 minutes at
135 degrees Celsius).
Made universally compatible to most major electrorsurgical brands.
Ideal for veterinary use.
X T1-Diamond Shape
X T2-Small Loop
X T3-Large Loop
X T4-Fine Wire
X T5-Heavy Wire
X T7-Oval Loop
X T9-Heavy Ball
£FINANCE
AVAILABLE
Art - E1 ElectroSurgery Cutting Unit
Code Description Price
ARTE1 ART-E1 Electrosurgery / Cutting Unit With 7 Pc. Electrodes £549*