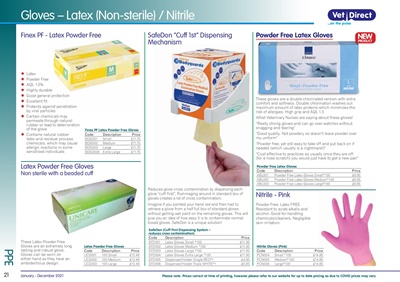 PPE 21 January - December 2021
Finex PF - Latex Powder Free
X Latex
X Powder Free
X AQL 1.5%
X Highly durable
X Good general protection
X Excellent fit
X Protects against penetration
by viral particles
X Certain chemicals may
permeate through natural
rubber or lead to deterioration
of the glove
X Contains natural rubber
latex and residual process
chemicals, which may cause
allergic reactions in some
sensitised individuals
Latex Powder Free Gloves
These Latex Powder Free
Gloves are an extremely long
lasting and robust glove.
Gloves can be worn on
either hand as they have an
ambidextrous design.
Non sterile with a beaded cuff
Latex Powder Free Gloves
Code Description Price
UCG001 100 Small £12.49
UCG002 100 Medium £12.49
UCG003 100 Large £12.49
Powder Free Latex Gloves
Code Description Price
ABL001 Powder Free Latex Gloves Small*100 £9.95
ABL002 Powder Free Latex Gloves Medium*100 £9.95
ABL003 Powder Free Latex Gloves Large*100 £9.95
Finex PF Latex Powder Free Gloves
Code Description Price
BDG001 Small £11.75
BDG002 Medium £11.75
BDG003 Large £11.75
BDG003X Extra Large £11.75
NEWPRODUCT
These gloves are a double chlorinated version with extra
comfort and softness. Double chlorination washes out
maximum amount of latex proteins which minimizes the
risk of allergies. High grip and AQL 1.5
What Veterinary Nurses are saying about these gloves!
"Really strong gloves and can go over watches without
snagging and tearing"
"Good quality. Not powdery so doesn't leave powder over
my uniform"
"Powder free, yet still easy to take off and put back on if
needed (which usually is a nightmare!)"
"Cost effective to practices as usually once they are off
(for a nose scratch) you would just have to get a new pair"
Powder Free Latex Gloves
Nitrile - Pink
Gloves - Latex (Non-sterile) / Nitrile
Powder Free. Latex FREE.
Resistant to acids alkalis and
alcohol. Good for handling
chemicals/cleaners. Negligible
skin irritation.
Nitrile Gloves (Pink)
Code Description Price
PCN004 Small *100 £14.95
PCN005 Medium*100 £14.95
PCN006 Large*100 £14.95
Please note: Prices correct at time of printing, however please refer to our website for up to date pricing as due to COVID prices may vary
SafeDon "Cuff 1st" Dispensing
Mechanism
Reduces glove cross contamination by dispensing each
glove "cuff first". Rummaging around in standard box of
gloves creates a lot of cross contamination.
Imagine if you painted your hand red and then had to
retrieve a glove from a half full box of standard gloves
without getting wet paint on the remaining gloves. This will
give you an idea of how easy it is to contaminate normal
boxed gloves. SafeDon is a unique solution!
SafeDon (Cuff First Dispensing System -
reduces cross contamination)
Code Description Price
SFD001 Latex Gloves Small *100 £11.95
SFD002 Latex Gloves Medium *100 £11.95
SFD003 Latex Gloves Large *100 £11.95
SFD004 Latex Gloves Extra Large *100 £11.95
SFD005 Dispenser/Holder Single RED*1 £4.95
SFD006 Dispenser/Holder Triple WHITE*1 £5.95