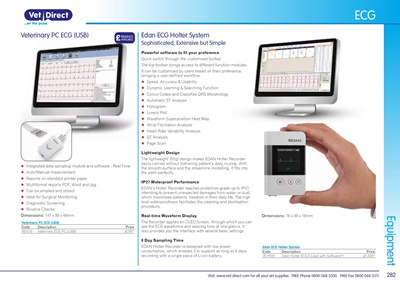 282
Visit: www.vet-direct.com for all your vet supplies FREE Phone 0800 068 3300 FREE Fax 0800 068 3311Equipment
ECG
Edan ECG Holter System
Code Description Price
VE-H001 Edan Holter ECG 5-Lead with Software*1 £1,695*
Edan ECG Holter System
Sophisticated, Extensive but Simple
Powerful software to fit your preference
Quick switch through the customised toolbar
The top toolbar brings access to different function modules.
It can be customized by users based on their preference,
bringing a user-defined workflow.
X Speed, Accuracy & Usability
X Dynamic Learning & Searching Function
X Colour Codes and Classifies QRS Morphology
X Automatic ST Analysis
X Histogram
X Lorenz Plot
X Waveform Superposition Heat Map
X Atrial Fibrillation Analysis
X Heart Rate Variability Analysis
X QT Analysis
X Page Scan
Lightweight Design
The lightweight (50g) design makes EDAN Holter Recorder
easily carried without bothering patient's daily routine. With
the smooth surface and the streamline modelling, it fits into
the palm perfectly.
IP27 Waterproof Performance
EDAN's Holter Recorder reaches protection grade up to IP27,
intending to prevent unexpected damages from water or dust,
which maximizes patients' freedom in their daily life. The high
level waterproofness facilitates the cleaning and sterilisation
procedure.
Real-time Waveform Display
The Recorder applies an OLED Screen, through which you can
see the ECG waveforms and wearing time at one glance. It
also provides you the interface with several basic settings.
8 Day Sampling Time
EDAN Holter Recorder is designed with low power
consumption, which enables it to support as long as 8 days
recording with a single piece of Li-ion battery.
X Integrated data sampling module and software - Real-Time
X Auto/Manual measurement
X Reports on standard printer paper
X Multiformat reports PDF, Word and Jpg
X Can be emailed and stored
X Ideal for Surgical Monitoring
X Diagnostic Screening
X Routine Checks
Dimonsions: 147 x 99 x 48mm
Veterinary PC ECG (USB) £FINANCE
AVAILABLE
Veterinary PC ECG (USB)
Code Description Price
VE1010 Veterinary ECG PC (USB) £795*
Dimonsions: 76 x 49 x 16mm